Classes for the
New York Burlesque Festival
Location for Saturday classes: 440 Studios, 440 Lafayette at Astor Place, Manhattan, 10003.

Go directly to the studio (see specific class description for the room your class is held in, as the studios vary. Arrive dressed for a movement class (leggings, t-shirt, etc.), bring a spare pair of heels if you like, kneepads and yoga mat or towel for floorwork if you like, and a bottle of water. No food or staining beverages allowed in the room and be sure to leave no trash behind :)
The New York School of Burlesque is the official provider of classes for the New York Burlesque Festival.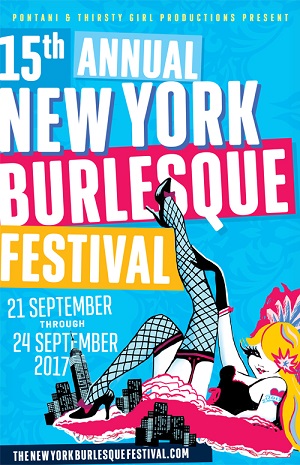 Featuring international legends and award-winners!
Confirmed instructors: Dirty Martini, Gabriella Maze, Michelle Lamour, Tigger, Sweetpea
Saturday, September 23, Studio 3F
1.30-2.30 Bump N Grind with Dirty Martini
2.45-3.45 Floorwork with Sweetpea
4-5 pm Capes and Wings with Gabriella Maze (Studio 4D)
Sunday September 24, Studio 4C
12.00-1.00 Dynamic Dance Choreography with Michelle Lamour
1.15-2.15 Acting for Burlesque with Tigger!

Class Descriptions:


SATURDAY SEPTEMBER 23

Beyond the ump N Grind with Dirty Martini
An advanced class for experienced dancers, Miss Martini uses her choreographic talents to teach a comprehensive warm up and challenging routine for dancers who need a little polishing for their moves, grounding in their technique or bravado in their onstage personality. This class works on fluidity of movement while introducing the vocabulary of the old burlesque to the modern eye of the classically trained performer. Focusing on musicality and stage presence, it's the next step for a performer who feels comfortable with movement and choreography, but would like to discover more about the moves that make burlesque dancers unique.

Floorwork with Sweetpea
Floorwork gets you gigs! Audiences love it! Fresh off her devastating performance at the Burlesque Hall of Fame in June, where Sweetpea brought the house down with a combination of perfectly executed high-energy moves and luscious slow burn, she is bringing a rockin' workshop to NYC! Students will do a warmup to loosen and free their limbs, then learn how to move smoothly to the floor, make graceful transitions, do impressive tricks, and return to standing with apparent ease.

Capes and Wings with Gabriella Maze
Gabriella will demonstrate and discuss moving fabric with ease, including techniques than can apply to wings, capes, and dusters She loves fabric, the more yards the better! It is a versatile tool, and every dancer can benefit from knowing how to work yards of fabric with effortless wonder and sensuality . She will discuss which fabrics work best and how these props are constructed (though this is not a costume construction class). Hear some stories, bring your questions, and let Gabriella Maze teach you how to create a spectacular sexy visual! Come dressed for movement and bring wings, a duster, cape, or any piece of fabric to try out her techniques for yourself. If you don't have a suitable cape to bring, you can still watch and learn! Born and raised in London, Gabriella began her dancing career in the early 1970s. Her unique, sultry style took her around the world and she was a featured performer in hotspots all over the globe, including Spain, Greece, Cyprus, Egypt, Abu Dhabi, Bahrain and Dubai. The story has it that she even shared a hookah with the Shah of Iran! One thing's for sure -- she wouldn't change a thing in her glamorous life!

SUNDAY SEPTEMBER 24

Dynamic Choreography with Michelle Lamour
Ever feel like you have dancer's block? Not quite sure what to do or how? Michelle L'Amour is a master of choreography! Learn how to work with your particular skill set and gain tools to make your choreography more dynamic and entertaining. We will also talk about transitions and how to use your specialty moves. Wear dance clothes and heels.

Acting Burlesque with Tigger
Set the stage on fire! Go from talented to TNT! Build a larger-than-life Burlesque Persona with Tigger! and take your shows and your stage identity to the next level. Tigger! is a recognized pioneer of today's burlesque scene, but he has been an actor all his life -- "acting like a stripper" since 1992 years. Using his degree in theatre, his experience teaching college acting, and nearly 40 years on the stage (from Shakespeare to Shimmy), he employs his theatrical training & perspective to break down what makes a burlesque performer stand out from the herd. Whatever you do in front of any kind of an audience, You are an Actor. Learn techniques and tips to make the most of what you've got. Be prepared to take notes. ACTING BURLESQUE is a lecture with some acting/movement exercises.
When you register, you are affirming that you have read and agree to our payment, cancellation, transfer, and refund policies. Read Here. There is no refund available with less than 48 hours notice. The calendar below is constantly being updated.