The New York School of Burlesque is the official provider of classes for the New York Burlesque Festival.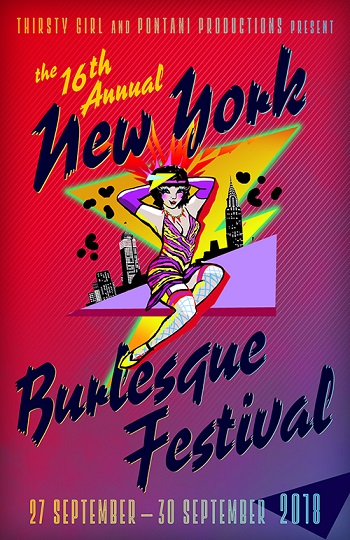 Check out our specialty classes for the New York Burlesque Festival!
Class size is limited to so register now!

The New York Burlesque Festival Site

Location for all workshops: 440 Studios, 440 Lafayette at Astor Place, Fourth Floor, Manhattan, 10003.

Go directly to the studio to check in. Arrive dressed for a movement class (leggings, t-shirt, etc.), bring a spare pair of heels if you like, kneepads and yoga mat or towel for floorwork if you like, and a bottle of water. No food or staining beverages allowed in the room and be sure to leave no trash behind :)
SATURDAY, SEPTEMBER 29, 440 LAFAYETTE, MANHATTAN, NY
12-1 pm (includes time to chat after class) $30
Be Fabulous! with Fabulous Fanny! Studio 4E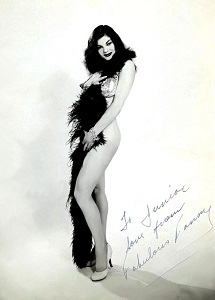 Join burlesque legend Fabulous Fanny for a fun and informative workshop! Fanny believes that burlesque comes naturally, and she is willing to share tips and tricks, answer questions, and help you find your groove. She will talk about her shimmy techniques, her walk, and her experiences as a performer in the 1960s. This is her first class ever, and your only chance to take a class with this legend in NYC!
Learning from the Legends of Burlesque is an experience like no other -- part chat, part personal history, part technique, part philosophy! All your favorite stars of burlesque acknowledge their debt to these incredible performers of the past and present. This is an opportunity not to be missed. These classes happen no more than twice a year.

1.30-2.45 $25
Fan Dance with Anything! with Dirty Martini! Studio 4E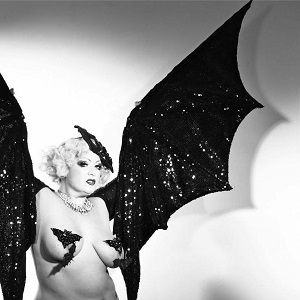 Dirty Martini's ultimate guide to graceful fan dancing.
Learn tricks of the trade from the one and only Sally Rand Award winner.
You bring it...Dirty Martini will teach you to dance with it! Whether it's luscious ostrich feathers or kitchen pot lids, this class will teach you the basics of classic fan dancing mixed with some new movement ideas for unusual props. Bring your prop, concept and some clothing to move comfortably in. The class starts with a warm up designed especially for burlesque performers to experiment with new ways of moving on the stage and promotes proper stage deportment. In other words walk the walk of a true burlesque diva. Following the warm up, the students will put on their high heels to dig in and learn secret moves developed from Miss Martini's many years spent researching vintage burlesque while establishing her New Burlesque movement vocabulary. Miss Martini has taught her signature fan dance technique to comedienne Margaret Cho, trans burlesque sensation Rose Wood as well as many other up and coming and established burlesque performers. Participants MUST bring their own props or fans nothing will be provided. Any hand held prop will do, but preferably a light object that has enough surface space to catch air and cover the body.

3-4 pm $25
Get Up, Get Down: Floorwork! with Sweetpea! Studio 4C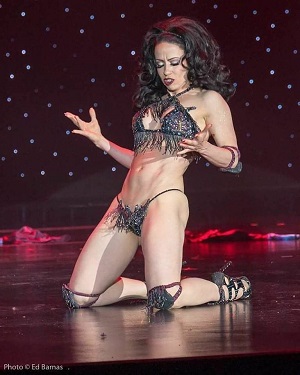 Sweetpea brought the house down with her devastating performance at the Burlesque Hall of Fame with a combination of perfectly executed high-energy moves and luscious slow burn, and she is bringing a rockin' workshop to NYC!
Students will do a warmup to loosen and free their limbs, then learn how to move smoothly to the floor, make graceful transitions, do impressive tricks, and return to standing with apparent ease. ​Though beginners will benefit greatly from this workshop, this class is highly suited for intermediate students. Some of the more challenging moves will be deconstructed in order to teach mechanics and build strength (and to workshop on your own time). Wear clothing in which you can move, bring a pair of shoes in which you perform, and keep a bottle of water handy, because you're going to work!

SUNDAY SEPTEMBER 30 CLASSES HAVE BEEN CANCELLED
Those classes will be offered at a later date!
If you paid for Sunday classes and have not yet been contacted, please email schoolofburlesque@gmail.com for a refund or transfer to another class.
More Announcements for 2018 coming soon!
When you register, you are affirming that you have read and agree to our payment, cancellation, transfer, and refund policies. Read Here. There is no refund available with less than 48 hours notice.
The calendar below is constantly being updated.