Meet the Teachers of the
New York School of Burlesque
INSTRUCTORS FOR JANUARY 2021

Bebe Bardot
Bebe is an international shake dancer, published pinup, burlesque historian, and professional roller girl. Since being trained by international burlesque superstar Egypt Blaque Knyle, she has been making her mark, including teaching at BurlyCon.
In January, Bebe is teaching Shake Dancing.
Get to Know Bebe Better

Hartless Malone
Hartless is a certified fitness instructor with licenses to teach Liquid Motion and Zumba. She loves teaching students how to move intentionally, connect their mind to their body, and have fun!
In January, Hartless is teaching Liquid Motion Floorplay.
Get to Know Hartless Better

Jezebel Express
A core NYSB Instructor for several years, Jezebel Express is known for creating a welcoming, dynmaic environment for new students. She is an enthusiastic teacher and an inspirational writer and speaker.
In January, Jezebel is teaching Flirting With Burlesque.
Get to Know Jezebel Better

Jo Weldon
In January, Jo is teaching Essential Burlesque and Act Development.
Jo Weldon is the Headmistress and Founder of the New York School of Burlesque, author of The Burlesque Handbook, and is one of the most recognized burlesque instructors in the world. She is a recipient of the coveted Burlesque Hall of Fame award for Recognition of Outstanding Contribution to the Art of Burlesque. Get to Know Jo Better

Kita St Cyr
In January, Kita is teaching Streaming 101.
Get to Know Kita Better







Headmistress Jo Weldon • NYSB Core Instructors
NYSB Guest Instructors

Headmistress Jo "Boobs" Weldon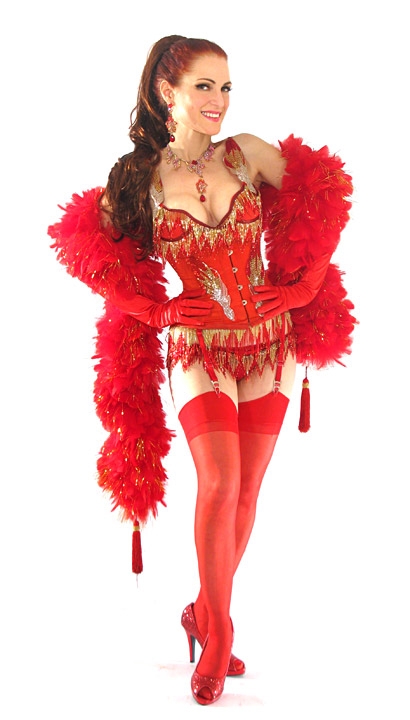 Photograph of Jo Weldon by Scott Shuster


Jo Weldon is the Headmistress and Founder of the New York School of Burlesque, and is one of the most recognized burlesque instructors in the world. She is a recipient of the coveted Burlesque Hall of Fame award for Recognition of Outstanding Contribution to the Art of Burlesque. She has been interviewed for or mentioned in countless major press articles, films, documentaries, news items, and television shows.
Internationally renowned as burlesque personality Jo Boobs, she's rounded her heels on stages from Coney Island to Sydney Harbour. Garo Sparo named her one of the Top Ten Badass Burlesque Babes, and she was recently voted one of the
Top 3 Burlesque Performers in the World
. She's taught thousands of women (and men!) to twirl tassels, and has conducted performance workshops producing some of the most respected new performers in burlesque. She recently taught burlesque to disabled performers at DaDaFest in Liverpool.
Jo is the winner of such exotic titles as Best Bump N Grinder, Best Teacher and Mentor, and Biggest Cougar in Burlesque! She has worked with performers from Leonard Cohen to Spinal Tap, and has been featured on television shows from
CBS Sunday Morning
to
Gossip Girl
. She's taken it off in the grimiest strip clubs and at the most esteemed venues, including being the first burlesquer to ever strip down at The New York Public Library, and has performed and headlined at dozens of festivals all over the world, including The Vancouver Burlesque Festival, the Toronto Burlesque Festival, and the New Zealand Burlesque Festival. She is Co-Director of Education at The Burlesque Hall of Fame in Las Vegas, Co-Curator of Burlycon, and conducts the Master Class in Burlesque at Coney Island USA.
In addition to teaching and performing, Jo has released three ground-breaking how-to burlesque DVDs (via World Dance New York), and her critically acclaimed book The Burlesque Handbook, with a foreword by Margaret Cho, (HarperCollins) is the first book ever published on how to create burlesque routines. She is also the founder of Pink Light Burlesque, a program that produces free burlesque classes for breast cancer survivors and patients.
Ask Jo any question about burlesque on Formspring
Jo on Facebook
Jo on Twitter
Jo on Blogspot
'
The Burlesque Handbook Fan Page
Jo's Author Page on Amazon.com
Jo's Instructional DVDs
Read an interview with Jo on Coilhouse
Jo Teaching at Tease-O-Rama in San Francisco
Jo performng at the Toronto Burlesque Festival
NYSB Core Instructors
Amber Ray
Get to know Amber at
amberray.net
Calamity Chang
Get to know Calamity at
foxfatale.com/calamitychang/
Darlinda Just Darlinda
Get to know Darlinda at
darlindajustdarlinda.com
Doctor Lucky
Get to know Doctor Lucky at
Lukki.com
Gal Friday
Get to know Gal at
galfridayburlesque.tumblr.com/
Jezebel Express
Get to know Jezebel on
jezebelexpress.com
Miss Saturn
Get to know Saturn at
MissSaturn.com
Peekaboo Pointe
Get to know Peekaboo on
peekaboopointe.com
Perle Noire
Get to know Perle on
perlenoireburlesque.biz/
Pinkie Special
Get to know Pinkie at
pinkiespecial.com
Veronica Varlow
Get to know Varonica at
Dangerdame.com
Weirdee Girl
Get to know Weirdee on
Facebook
World Famous *BOB*
Get to know *BOB* on
her website
Guest Instructors
• Angie Pontani (NYC)
• Bettina May (NYC)
• Dale Rio (Philadelphia)
• Dirty Martini (NYC)
• Miss Indigo Blue (Seattle)
• Jonny Porkpie (NYC)
• Julie Atlas Muz (NYC)
• Kellita (San Fransisco)
• Lefty Lucy (NYC)
• Lux LaCroix (Los Angeles)
• Michelle L'Amour (Chicago)
• Pearle Noire (New Orleans)
• Tigger! (NYC)
• Trixie Little and the Evil Hate Monkey (Coney Island and NYC)
The calendar below is in the process of being updated.