Act Development!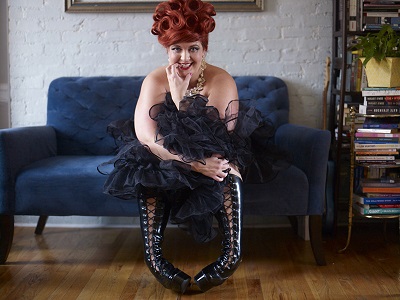 Sign up now for Act Development!
Four Sundays in March, March 1, 8, 15, 22; showcase April 19 at DROM.
Identical series runs again in April: Four Sundays in April, April 5, 12, 19, 26. Showcase Date TBA.
Get Your Act Together!
Burlesque 301: Act Development
with Jezebel Express
Create Your Own Burlesque Routine!
You've got the moves, you've got the attitude... but do you have the skills it takes to create a truly spectacular act? This four-week intensive workshop will help you apply the tools you've learned in Essential Burlesque and Performance Fundamentals, while providing the support you need to create a standout burlesque number. This class guides students through the process of developing an idea of an act into a fully-staged showpiece in a supportive, constructive environment. The series culminates in a Student Showcase performance, so you'll have a chance to show off your hard work onstage!
Prerequisites (may be taken concurrently):
Essential Burlesque
Performance Fundamentals
For alternatives and make-up classes you can take private sessions at additional cost. For details email schoolofburlesque@gmail.com.
Students will be supported in making their best creative decisions, including:
• how to make creative costuming decisions that don't break the bank
• how to build and maintain a strong character and tell a clear story
• how to perform with grace and poise, even if you're not a trained dancer
• how to anticipate performance disasters (and use them to win your audience over!)
• how to create a striking beginning and an ending with pow!
This class will involve "homework", so students should be prepared to apply each week's lessons at home and return to the following week's workshop with new material.
This class is suitable for both burlesque performers creating their first acts and those with more experience seeking continued growth and improvement.
Class Structure:
>Please note, you will be expected to have taken
Essential Burlesque
and
Performance Fundamentals
. You can also take private instruction in those topics (email schoolofburlesque@gmail.com for information on private instruction). You may also apply to skip them if you have previous burlesque experience or can demonstrate understanding of those topics before taking the class. The topics in those classes will not be taught or reviewed in Act Development, so be sure to look at them and understand what you will need to know before you take this series.
subject to necessary changes
• Week One - Music and Costuming Selection
• Week Two - Character and Structure
• Week Three - Musicality & Choreography
• Week Four - Polishing For Performance Plus Detailing and Rehearsal
• Performance Showcase
About Jezebel Express
Miss Jezebel Express holds a BA in Dance Choreography, and has been performing and teaching burlesque for the better part of a decade. In addition to having competed for the title of Miss Exotic World, she has performed at festivals all over North America, including Tease-O-Rama, The New York Burlesque Festival, and The Toronto Burlesque Festival. She has been awarded grants for her artistic work by the US Fulbright Association, The State of Iowa and The Newfoundland Arts Council, but she thinks her best work is evident in the smiles and shimmies of the genius students at the New York School of Burlesque.
Jezebel Express performs a fan dance
There is no way to make up or transfer a missed class but you have the option to schedule a personalized one-on-one session with your instructor for an additional fee if you miss one.
Please note, classes are 18+, but you must be 21+ to perform in our showcases.
We strongly recommend you purchase The Burlesque Handbook, available on amazon.com or on loan from yoru library, to accompany this class. The book includes information about burlesque dance, history, costuming, and makeup, illustrated step by step pastie-making instructions, and more. It is the first and only book on how to create burlesque routines.
Click here to purchase or download from Amazon.com!

You may also purchase a copy from our stockists at the amazing Bluestockings Radical Bookstore, (212) 777-6028, located at 172 Allen Street 10002,
or Call your favorite bookstore in advance to make sure it's in stock.


The calendar below is in the process of being updated.