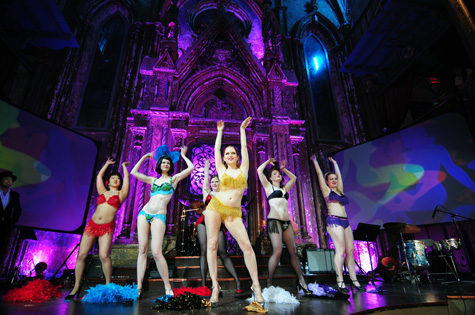 Jo and Students, Photo by Norman Blake. From Left to Right: Pookie Patootie, Weirdee Girl, Belle Curves, Jo Weldon, Fleur De Lis, Clams Casino
For Students
Jo has produced substantial online resources for burlesque fans and students.

http://burlesquedaily.blogspot.com/
Her blog contains recomendations for film and books, interviews with burlesque personalities such as Margaret Cho, Dixie Evans, and Dita Von Teese, and answers to questions posted by students from all over the world.

http://schoolofburlesque.com/
The website for the New York School of Burlesque has a resources section with instant viewing of online clips to help you learn to attach false eyelashes, do pinup hair, sew fringe to a costume, and more.
Enjoy, and feel free to contact The Headmistress with any questions or suggestions.