From New York, where American Burlesque Striptease was born...
...the NY School of Burlesque combines direct training from the most glamourous performers of the 1940s-1960s with the freshness, mischief and creativity of the most prolific neo-burlesque scene in the world! All of our instructors are experienced professional performers, and our environment is warm, supportive, and inclusive. We offer a wide range of classes for entertainment, exercise, or training to perform, depending on your level of interest.
Many people take our classes just for fun and confidence-building! None of our classes require that you perform, but all offer performance opportunities if you'd like to join one of our student showcases. Click here for more information about taking classes with an interest in performing.
And don't miss our student showcases, which are essential viewing for prospective performers!
Our next student showcase is July 19 at 7.30 pm! Come see the freshest burlesque in NYC! Not to be missed if you are interested in the classes, especially if you are curious about performing.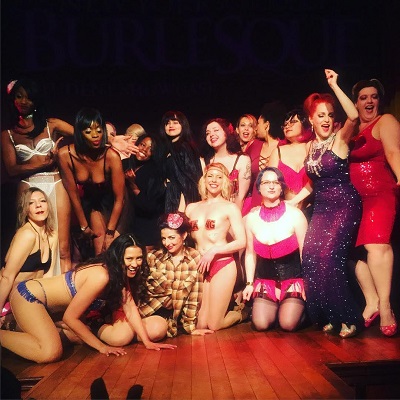 Details and Tickets
If you are a first timer or relatively new to burlesque, you will be comfortable in our core classes on Thursdays and Sundays. If you want to learn how to shimmy, bump, grind, fan dance, and twirl tassels, start with the core, Flirting With Burlesque and Essential Burlesque.
All of our currently available classes are listed below. Read class descriptions for schedules, pricing, and other details. Join our email list to be notified when new classes are added.
CORE CLASSES
MONTHLY: ESSENTIAL BURLESQUE!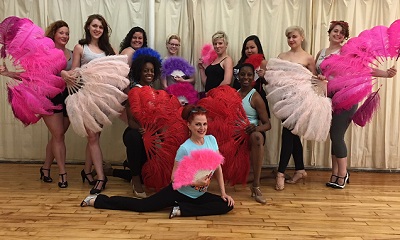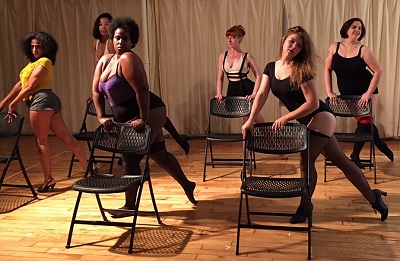 Many of your favorite burlesque performers got their introduction to burlesque in this very workshop. You'll handle quintessential burlesque props like boas, gloves, and feather fans, while you learn secrets of performance and seduction that you can use onstage and beyond.
Includes chair dance, fan dance, tassel-twirling, and more!
Details and Registration
EVERY WEEK: FLIRTING WITH BURLESQUE!
Please note that this class in not running in July 2019.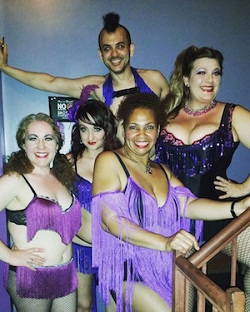 Learn a group burlesque routine! And if you want to dip a toe in our sparkly pool of performance, you'll have the choice to participate in a showcase! Our "Flirting with Burlesque" class is a perfect introduction to NYSB.
Details and Registration
SATURDAY SPECIALS
On designated Saturdays (and occasionally on other days of the week) we have specialty classes and events, often featuring traveling guest stars. These workshops vary, from suitable for every level including beginners, to suitable for working professionals. Read individual class descriptions for details. Since these may not be available in NYC again, don't miss out!
IN JULY: HEADMISTRESS JO TEACHES REQUESTED CLASSES!
440 Lafayette in Manhattan. Fourth Floor, Studio 4C.
Jo asked students which classes they wanted to take, and these are their picks! Includes C/Hairography, Bubble Dance, and a Book Proposal worksop!
Details and Registration
You can also find Jo's performances and presentations at this link.
How to Write a Book Proposal
Sunday, July 14, 2019, 4-5.30 pm, $30
440 Lafayette in Manhattan. Fourth Floor, Studio 4C.
Have you ever thought about writing a book? Already written one but not sure what to do with it? Get clarity and insight on the possibilities of your book idea or project! This workshop is suitable for any level of book idea development, from fleeting thought to completed project.
You'll learn the basic format of a proposal, how to describe your work, how to present your platform, and how to approach a literary agent. Differences between fiction and non-fiction proposals will be addressed. You'll be able to ask questions of an industry insider who has two book deals with a major publisher. The goal is to give you tools and boost your confidence so you can take the next steps toward publishing success. Remember: ANY topic or idea can sell, but it takes a great proposal to make it happen!
This class is past. Email to to request information or to hire Jo for consultations.
Hairography/Chairography
Saturday, July 20, 2019, 4-5 $20
Studio 4D
Jo is famous for her hair moves, but your hair doesn't have to resemble hers for you to sassy and glamourous! Learn a chair dance featuring lots of hair flings and whips to sexy rock music, plus techniques for warmups and discovering the advantages of your own hair texture. Suitable for any length of hair, including a shaved head, but not suitable for hairstyles that don't move or can't be messed up. May not be suitable for those with neck or back issues, so check with your doctor if you're not sure. Recommended for students who have already taken Essential Burlesque or have done a chair dance elsewhere. Wear clothes you'd wear for a dance or yoga class and bring a bottle of water. Don't eat a heavy meal beforehand. If enough people sign up, we can put this number in my August 3 birthday show at Coney Island!
Bubble Dance
Sunday, July 28, 2019, 4-530 pm, $30 plus $5 cash in class for materials
Studio 4C
Class size is small and strictly limited because of the size of the balloons, which means this class may sell out quickly. Bubble dancing is fancy, fun, sexy, and hilarious!
We will be using 36" balloons.
In this workshop you'll learn what kind of balloons to use in a bubble dance, how to inflate them quickly, and how you can reuse them. Then the fun begins as you start playing with them, discovering how to use every part of your body to move them around, how to conceal and reveal with them, and, most importantly, how to keep them from popping before you're ready. The class will close with a brief group choreography. Plus, you get to keep your balloon! Inspired by Rand the Vampire's bubble class at BurlyCon, and with his blessing and guidance, this class introduces bubbledancing to a brand new audience. Let your spirit rise!
Jo Weldon's Bubble Dance students, known as the Titillations, have performed at The House of Yes, The Slipper Room, Coney Island USA, and the New York Burlesque Festival.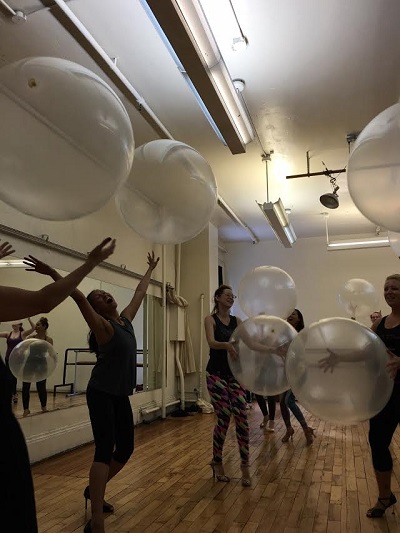 Above: Jo's students in class.
FLOORWORK SEDUCTION WITH PERLE NOIRE!
Studio 4D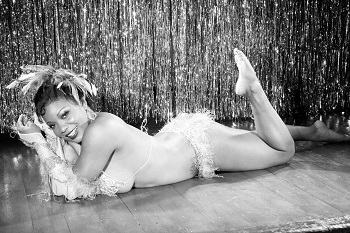 Floorwork is hot hot hot! Learn about it from a master in a series where each class builds on students' individual strengths over the course of three weeks. In addition to thrilling floorwork moves, the series will include warm up techniques for floorwork, lowering to the ground and rising up smoothly, and how to seduce in any position. Each student will discover their individual strengths as they work to develop their own signature choreography. A short piece of Perle's choreography will be repeated at the end of each class so that students can memorize it and have the opportunity to perform it in a show.
Details and Registration
Give the gift of burlesque classes with our Gift Certificates!
If you've received a gift certificate and you want some help choosing classes, get in touch! Private one-on-one classes are available, as are grouop classes for bachelorettes and birthdays. Email schoolofburlesqueatgmaildotcom.
Throughout the year, we will be adding both classic essentials and innovative workshops to the schedule, featuring some of the most renowned burlesque teachers in the world. You can stay up-to-date on our latest offerings by joining our email list or coming back to check the calendar at the end of this page.
CUSTOMIZED CLASSES
If you're interested in individual one-on-one professional instruction and choreography, we offer private instruction on an hourly basis. If you're interested in private group instruction for you and your friends, we can do that too! You can use our props (boas, gloves, pasties, fans, etc.), or with enough advance notice, we can provide props you and your friends can keep! We can also recommend performers, shows, and costumers. Email glitter@schoolofburlesque.com for more information.
Class size is limited to ensure each student gets a quality experience, and classes often sell out. Sign up as soon as you decide you want to take the classes to make sure you get in.
Our goal is to provide a space in which students feel supported, though individual class assignments may be challenging, and the business end of burlesque can be demanding. We work to make these spaces inclusive, diverse, and free of harassment. Because of the sexy nature of burlesque, it is important to us to help maintain our students' boundaries and comfort levels when they need our help or authority to do so. Please let us know if you ever feel uncomfortable due to the speech or actions of any of our instructors, students, or venues. Further, we will do our best to ensure that you do not experience discrimination due to your body type, age, gender, race, level of ability, or other factors that may concern you.
Check out our Headmistress on Instagram here
Bachelorette & Birthday Parties • About the NYSB
NYSB Original Classes and Shows
About Headmistress Jo Weldon
Bachelorette, Birthday, and Other Events
Videos and Online Burlesque Instruction
We are the original burlesque party providers, operating since 2003! We love to make everyone, from the shyest to the most outrageous folks in your party, feel like the hottest burlesque stars on center stage. Trust your memorable event to our experience and expertise, and treat yourself and your friends to a fabulous, sexy, and entertaining class!
More Info
About the
New York School of Burlesque
The New York School of Burlesque is the original source for learning the art of the bump, grind, and shimmy, teaching students across the country and around the world since 2003! Headmistress Jo "Boobs" Weldon wrote the book on burlesque—literally—The Burlesque Handbook, and we have produced how-to DVDs that many other instructors learn from. We know that one person alone doesn't make a school, so we have a wide variety of instructors with different approaches at the NYSB. The New York School of Burlesque will give you access to amazing and experienced teachers with a real commitment to joyous, dazzling burlesque and a love of performance. Our instructors work for The New York Burlesque Festival, The Burlesque Hall of Fame, Coney Island USA, and BurlyCon, so whether you just want to have fun or own the stage, you're in the right place!
We've produced numbers for Christina Aguilera, Gossip Girl, What Not to Wear, Love and Hip Hop, Real Housewives of NY, and more, plus we've been featured on dozens of news shows, including CBS Sunday Morning and the Today Show. Now we want to play with YOU!
We have plenty of classes just for fun, and also offer classes to hone your skills if you decide to perform. The NYSB gives you the opportunity to learn from some of the most experienced, fun-loving, and successful people in burlesque no matter your background. Plus, all students of the School are welcome to perform in our Student Showcases, and we have put more people on stage for their first time than any other school or show producer in the world! More of our students have gone on to win awards and to perform in festivals and events than we can count.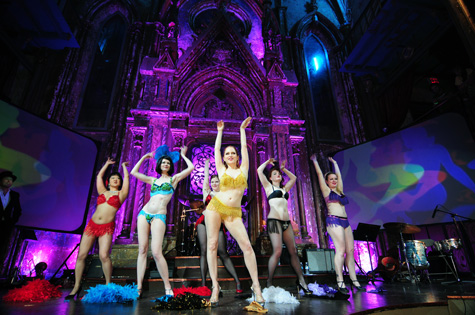 New York School of Burlesque Alumni peform with Headmistress Jo Weldon at a benefit for Coney Island USA. Photo by Norman Blake
Return to top
Anytime
Bachelorette, Birthday, and Other Events
We have been providing burlesque bachelorette parties for over ten years. Trust your event to our experience and expertise, and treat yourself and your friends to a fabulous class!
More Info
More classes are listed
here
!
See us in action on CBS Sunday Morning!
About Jo "Boobs" Weldon
Headmistress and Founder of the NY School of Burlesque

Headmistress and Founder Jo Weldon wrote the first-ever book on performing burlesque! For the price of a burlesque class, you can have a handbook that includes dance moves, costuming and makeup tips, and complete pastie-making and tassel-twirling instructions! The Burlesque Handbook, with a foreword by Margaret Cho, from HarperCollins.
Preview, purchase or download on amazon.com!
A Chat with Jo Boobs Weldon
Burlesque How-To Videos
< Follow Headmistress Jo on Instagram!



Follow us on Twitter: @SchoolOfBurlesk
or like us on Facebook!

Ten Tips for Trying Burlesque
Five Tips for Giving a Sexy Striptease


Private events are our specialty. We can bring a class or performers to your bachelorette, birthday, or corporate event! Contact us for more details.

Gift certificates are available upon request. More information here.

Love the movie Burlesque?
Check out our "Show Me How You Burlesque" webisode series on ChristinaAguilera.com!


The calendar below is constantly being updated.