From New York, where American Burlesque Striptease was born...
...the NY School of Burlesque combines direct training from the most glamourous performers of the 1940s-1960s with the freshness, mischief and creativity of the most prolific neo-burlesque scene in the world! All of our instructors are working, internationally-known professional performers, and our environment is warm, supportive, and inclusive. We offer a wide range of classes for entertainment, exercise, or training to perform, depending on your level of interest. Plus, you can request a private class for you and your friends at any time!
Want to get started as a burlesque professional? Ask about our consultations! You'll get fast track info to suit your individual situation and resources, plus insider tips, and you can even book your own private one-on-one lessons.
Want to get started in group classes? Read on!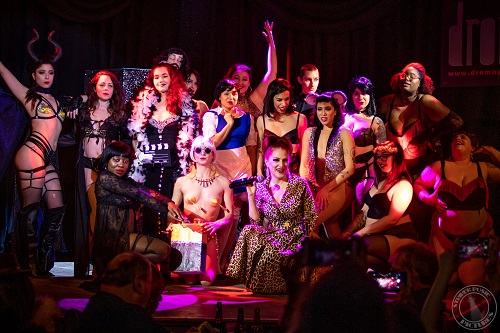 Above: a student showcase hosted by Headmistress Jo Weldon.
NEW FOR 2020!
The Anatomy of Burlesque
Become a true burlesque insider as you learn all about the performance fundamentals of a burlesque routine!
Fun for any level, required for Act Development
Details and Registration
Many people take our classes just for fun and confidence-building! None of our classes require that you perform, but many offer performance opportunities if you'd like to join one of our student showcases. Click here for more information about taking classes with an interest in performing.
And don't miss our student showcases, which are essential viewing for prospective performers! Please note, classes are 18+, but you must be 21+ to perform in our showcases.

We are so excited for the new year and the roaring 2020s! We've revamped our programs for students who want to develop solo routines, and we are adding new specialty classes. It's a new era and we are ready to prepare you for burlesque in the roaring 2020s!
Valentine Month Special Class: LAP DANCE!
February 1 2020, 2 pm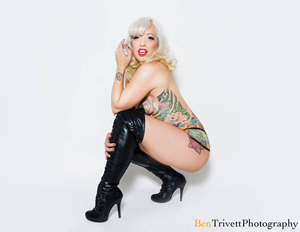 Once a year, Peekaboo Pointe and Jo Weldon team up for a lap dance class that's ridiculously fun, flirty, and a little bit dirty.
Details and Registration
CORE CLASSES
If you are a first timer or relatively new to burlesque, you will be comfortable in our core classes on Thursdays and Sundays. If you want to learn how to shimmy, bump, grind, fan dance, and twirl tassels, start with our core classes. If you want to create a solo routine to perform in a showcase, the Act Development series is listed below too! Plus special workshops by spectacular world-renowned performers!
MONTHLY: ESSENTIAL BURLESQUE!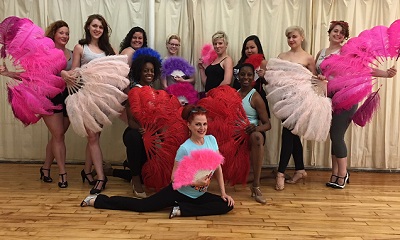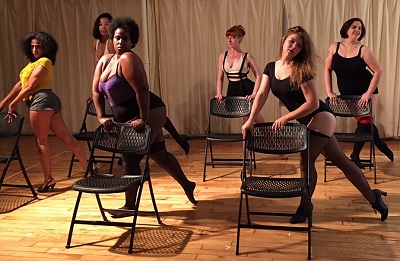 This is the one! Many of your favorite performers got their introduction to burlesque in this very series. You'll handle quintessential burlesque props like boas, gloves, and feather fans, while you learn secrets of performance and seduction that you can use onstage and beyond.
Includes chair dance, fan dance, tassel-twirling, and more!
Details and Registration
EVERY WEEK FLIRTING WITH BURLESQUE!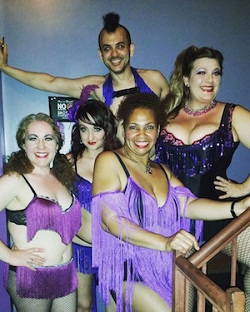 Learn a group burlesque routine! And if you want to dip a toe in our sparkly pool of performance, you'll have the option to participate in a showcase! Our "Flirting with Burlesque" class is a perfect introduction to NYSB.
Details and Registration For January and February 2020
SIX TIMES A YEAR: ACT DEVELOPMENT!
One of our internationally renowned instructors will guide students through the steps of creating a solo burlesque routine to perform in a student showcase!
More Details and Registration
SPECIALTY WORKSHOPS!
These classes are not part of our regular curriculum and are often taught by visiting instructors. Students may wonder if they should take them before they have decided if they want to perform or not -- we always advise them not to miss the opportunity to get inspired in these unique workshops!
March 7, 2020, 4 pm
Stage Kitten and More with Qualms Galore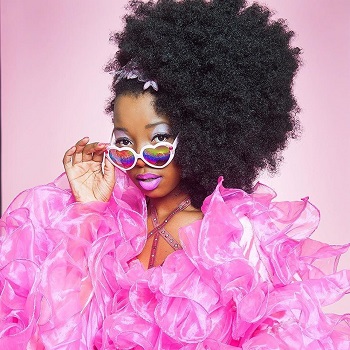 Want to get on the inside track in burlesque? There's no better way that being a stage kitten!
Details and Registration
March 15, 2020, 4 pm
Specialty Workshops with The Noire Pageant
Details and Registration
Beginning in April
Floorplay! With Hartless Malone and Perle Noire
A weekly two-hour workshop to help you get fit, strong, and graceful. Floorwork is hot hot hot and you can learn basic moves while developing your own routines in these amazing classes!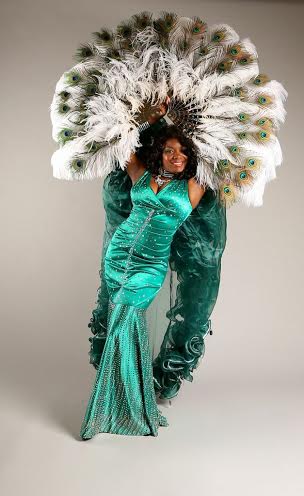 Registration opens soon!
CORSETS!
Sunday, October 27, 2019 4-530 pm:
How To Buy, Wear, And Strip Out Of Them.
Join Jo Weldon for a discussion and demo on one of the world's most fascinating pieces of clothing! You'll get a brief history, learn the differences between a bustier, a corsellette, and a true corset, and what style suits you best. You'll also learn how to artfully and gracefully strip out of them. Jo will bring corsets from her collection for students to examine, and students may bring their own to discuss. She will also discuss ornamentation techniques and lacing. Students should bring a notebook and pen.
Give the gift of burlesque classes with our Gift Certificates!
If you've received a gift certificate and you want some help choosing classes, get in touch! Private one-on-one classes are available, as are grouop classes for bachelorettes and birthdays. Email schoolofburlesqueatgmaildotcom.
Throughout the year, we will be adding both classic essentials and innovative workshops to the schedule, featuring some of the most renowned burlesque teachers in the world. You can stay up-to-date on our latest offerings by joining our email list or coming back to check the calendar at the end of this page.
CUSTOMIZED CLASSES
If you're interested in individual one-on-one professional instruction and choreography, we offer private instruction on an hourly basis. If you're interested in private group instruction for you and your friends, we can do that too! You can use our props (boas, gloves, pasties, fans, etc.), or with enough advance notice, we can provide props you and your friends can keep! We can also recommend performers, shows, and costumers. Email glitter@schoolofburlesque.com for more information.
Class size is limited to ensure each student gets a quality experience, and classes often sell out. Sign up as soon as you decide you want to take the classes to make sure you get in.
Our goal is to provide a space in which students feel supported, though individual class assignments may be challenging, and the business end of burlesque can be demanding. We work to make these spaces inclusive, diverse, and free of harassment. Because of the sexy nature of burlesque, it is important to us to help maintain our students' boundaries and comfort levels when they need our help or authority to do so. Please let us know if you ever feel uncomfortable due to the speech or actions of any of our instructors, students, or venues. Further, we will do our best to ensure that you do not experience discrimination due to your body type, age, gender, race, level of ability, or other factors that may concern you.
Check out our Headmistress on Instagram here
Bachelorette & Birthday Parties • About the NYSB
NYSB Original Classes and Shows
About Headmistress Jo Weldon
Bachelorette, Birthday, and Other Events
Videos and Online Burlesque Instruction
We are the original burlesque party providers, operating since 2003! We love to make everyone, from the shyest to the most outrageous folks in your party, feel like the hottest burlesque stars on center stage. Trust your memorable event to our experience and expertise, and treat yourself and your friends to a fabulous, sexy, and entertaining class!
More Info
About the
New York School of Burlesque
The New York School of Burlesque is the original source for learning the art of the bump, grind, and shimmy, teaching students across the country and around the world since 2003! Headmistress Jo "Boobs" Weldon wrote the book on burlesque—literally—The Burlesque Handbook, and we have produced how-to DVDs that many other instructors learn from. We know that one person alone doesn't make a school, so we have a wide variety of instructors with different approaches at the NYSB. The New York School of Burlesque will give you access to amazing and experienced teachers with a real commitment to joyous, dazzling burlesque and a love of performance. Our instructors are currently popular world-traveling performers who also work for The New York Burlesque Festival, The Burlesque Hall of Fame, Coney Island USA, and BurlyCon, so whether you just want to have fun or own the stage, you're in the right place!
We have plenty of classes just for fun, and also offer classes to hone your skills if you decide to perform. The NYSB gives you the opportunity to learn from some of the most experienced, fun-loving, and successful people in burlesque no matter your background. Plus, all students of the School are welcome to perform in our Student Showcases, and we have put more people on stage for their first time than any other school or show producer in the world! More of our students have gone on to win awards and to perform in festivals and events than we can count.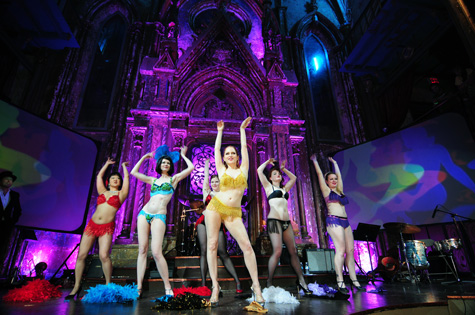 New York School of Burlesque Alumni peform with Headmistress Jo Weldon at a benefit for Coney Island USA. Photo by Norman Blake
Return to top
Anytime
Bachelorette, Birthday, and Other Events
We have been providing burlesque bachelorette parties for over ten years. Trust your event to our experience and expertise, and treat yourself and your friends to a fabulous class!
More Info
More classes are listed
here
!
See us in action on CBS Sunday Morning!
About Jo "Boobs" Weldon
Headmistress and Founder of the NY School of Burlesque

Headmistress and Founder Jo Weldon wrote the first-ever book on performing burlesque! For the price of a burlesque class, you can have a handbook that includes dance moves, costuming and makeup tips, and complete pastie-making and tassel-twirling instructions! The Burlesque Handbook, with a foreword by Margaret Cho, from HarperCollins.
Preview, purchase or download on amazon.com!
A Chat with Jo Boobs Weldon
Burlesque How-To Videos
< Follow Headmistress Jo on Instagram!



Follow us on Twitter: @SchoolOfBurlesk
or like us on Facebook!

Ten Tips for Trying Burlesque
Five Tips for Giving a Sexy Striptease


Private events are our specialty. We can bring a class or performers to your bachelorette, birthday, or corporate event! Contact us for more details.

Gift certificates are available upon request. More information here.

Love the movie Burlesque?
Check out our "Show Me How You Burlesque" webisode series on ChristinaAguilera.com!


The calendar below is constantly being updated.