From New York, where American Burlesque Striptease was born...
...the NY School of Burlesque combines direct training from the most glamourous performers of the 1940s–1960s with the freshness, mischief and creativity of the most prolific neo-burlesque scene in the world! We offer a wide range of classes for entertainment, exercise, or training to perform, depending on your level of interest.
If you've received a gift certificate and you want some help choosing classes, get in touch! Email schoolofburlesqueatgmail.com!
You can take Classic Moves on October 16 and learn an entire routine, using our boas and gloves and pasties! You'll peel gloves and bump, grind, and twirl your way through an entire burlesque routine! Details and Tickets
Our next student showcase is at the world-famous Slipper Room! Come see the newest performers and the freshest burlesque in New York!
Details and Tickets
Ready to get your boa on? Learn the basics of boa-handling, glove-peeling, chair dance, fan dance, tassel-twirling, and more! Check out Essential Burlesque!
Special Guests!
This fall we will be featuring many special guest instructors, teachers who are renowned worldwide for their skills as performers and educators. You can explore the fine art of hair-flinging with Darlinda Just Darlinda; study chair dance and choreography with Lux LaCroix; go deeper into your burlesque intrigue with Minnie Tonka; get spellbinding with Veronica Varlow; and much, much more!
See the calendar for links to more classes!
Stay tuned! Our annual two-day intensive will be offered in December. You can take a weekend immersion in burlesque movement and act development concepts.
As seen in The New York Times and TimeOut New York:
Flirting with Burlesque!
Bachelorette & Birthday Parties • About the NYSB
NYSB Original Classes and Shows
About Headmistress Jo Weldon
Bachelorette, Birthday, and Other Events
Videos and Online Burlesque Instruction
We are the original burlesque party providers, operating since 2003! We love to make everyone, from the shyest to the most outrageous folks in your party, feel like the hottest burlesque stars on center stage. Trust your memorable event to our experience and expertise, and treat yourself and your friends to a fabulous, sexy, and entertaining class!
More Info
About the
New York School of Burlesque
The New York School of Burlesque is the original source for learning the art of the bump, grind, and shimmy, teaching students across the country and around the world since 2003! Headmistress Jo "Boobs" Weldon wrote the book on burlesque—literally—The Burlesque Handbook, and we have produced how-to DVDs that many other instructors learn from. We know that one person alone doesn't make a school, so we have a wide variety of instructors with different approaches at the NYSB. The New York School of Burlesque will give you access to amazing and experienced teachers with a real commitment to joyous, dazzling burlesque and a love of performance. Our instructors work for The New York Burlesque Festival, The Burlesque Hall of Fame, Coney Island USA, and BurlyCon, so whether you just want to have fun or own the stage, you're in the right place!
We've produced numbers for Christina Aguilera, Gossip Girl, What Not to Wear, Love and Hip Hop, Real Housewives of NY, and more, plus we've been featured on dozens of news shows, including CBS Sunday Morning and the Today Show. Now we want to play with YOU!
We have plenty of classes just for fun, and also offer classes to hone your skills if you decide to perform. The NYSB gives you the opportunity to learn from some of the most experienced, fun-loving, and successful people in burlesque no matter your background. Plus, all students of the School are welcome to perform in our Student Showcases, and we have put more people on stage than any other school or show producer in the world! More of our students have gone on to win awards and to perform in festivals and events than we can count.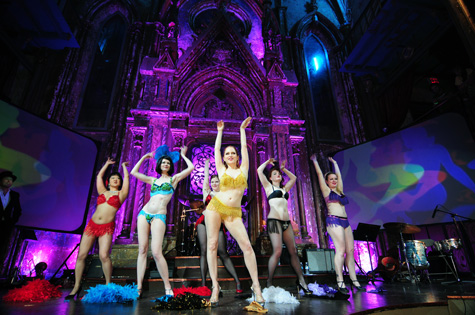 New York School of Burlesque Alumni peform with Headmistress Jo Weldon at a benefit for Coney Island USA. Photo by Norman Blake
NYSB Favorites
The New York School of Burlesque has become known for offering a variety of basic movement and act development classes. Check out the listings below for details about these exciting exclusive series as well as special one-of-a-kind classes!
Every Monday!
Burlesque Booty
Instructors: Peekaboo Pointe and Gal Friday
Get your butt in shape with a unique booty-based workout incorporating burlesque, jazz, pilates, and New Orleans Bounce!
Details and Registration
Every Thursday!
Flirting with Burlesque
Instructors: Jezebel Express and Darlinda Just Darlinda
Our burlesque dance class will help you find and firm muscles you didn't know you had! Burlesque dancers move with enviable grace and confidence, and you'll learn to build muscle memory to carry yourself like a burlesque queen!
As seen in The New York Times and Time Out New York! Every Thursday at 7 pm. This class, geared toward fun and easy moves to get you fit and fine, is one of our most popular classes!
Details and Registration
Monthly!
Essential Burlesque Series
Instructor: Jo Weldon, author of
The Burlesque Handbook
Want to learn it all from the Headmistress of the School of Burlesque, Jo Weldon? The essential Burlesque Series is a 4-week intensive that teaches all of the basics of burlesque: how to flirt with a boa, peel a glove with fierceness, twirl tassels in every direction, and more! Plus you'll learn an entire burlesque routine from beginning to end! It's perfect for pros and players alike.
It's authentic, delicious burlesque, and you can do it all! Jo Weldon learned many of these classic and sensual moves directly from the sexy, fierce ladies who performed during the golden age of burlesque in the 1950s, and she's bringing you the real thing! This class has not only spawned dozens of burlesque careers, but entertained over a thousand bachelorettes and birthday girls.
Details and Registration
Ultimate Self Confidence!
with World Famous *BOB*
Ultimate Self Confidence! is the radical and astonishing workshop that everyone is talking about! As seen in the Village Voice "Best of New York 2008" guide, World Famous *BOB* has created this workshop to encourage women to take steps toward who they ultimately want to be both on stage or in everyday life situations.
Confidence is something that is only true when it is created by ourselves and *BOB* will guide you through a series of fun and sometimes challenging exercises to create "courage references" that are guaranteed to stay with you long after you've left class. Come ready to work and be prepared to amaze even yourself!
Many students say this class inspired them and changed their lives!
Details and Registration
Return to top
Anytime
Bachelorette, Birthday, and Other Events
We have been providing burlesque bachelorette parties for over ten years. Trust your event to our experience and expertise, and treat yourself and your friends to a fabulous class!
More Info
More classes are listed
here
!
See us in action on CBS Sunday Morning!
About Jo "Boobs" Weldon
Headmistress and Founder of the NY School of Burlesque

Headmistress Jo Weldon performing with Storybook Burlesque in The Burlesque Handbook show
Headmistress and Founder Jo Weldon wrote the first-ever book on performing burlesque! For the price of a burlesque class, you can have a handbook that includes dance moves, costuming and makeup tips, and complete pastie-making and tassel-twirling instructions! The Burlesque Handbook, with a foreword by Margaret Cho, from HarperCollins/ItBooks.
Preview, purchase or download on amazon.com!
Jo Boobs Teaches the Va Va Voom!
A Chat with Jo Boobs Weldon
Jo Weldon Burlesque How-To App on iTunes
Read Jo's Blog
Follow Jo on Twitter!
Follow us on Twitter: @SchoolOfBurlesk
or like us on Facebook!
Burlesque Brings Babes Together
Ten Tips for Trying Burlesque
Five Tips for Giving a Sexy Striptease
Private events are our specialty. We can bring a class or performers to your bachelorette, birthday, or corporate event! Contact us for more details.
Gift certificates are available upon request. More information
here
.
Love the movie
Burlesque
?
Check out our "Show Me How You Burlesque" webisode series on ChristinaAguilera.com!
The calendar below is constantly being updated.