The New York School of Burlesque Online will be going live this week! Scroll down for details.


From New York, where American Burlesque Striptease was born...
All of our currently available classes are listed on this page!
Scroll on down and get ready to bump n grind with the best!
Currently Available Online:
Times listed are eastern standard times.
Instructors will be teaching from their homes.

FLIRTING WITH BURLESQUE WITH JEZEBEL EXPRESS
THUSRDAYS 8-9 pm EST
Details and Registration

ESSENTIAL BURLESQUE WITH JO WELDON
SUNDAYS 130-3 PM est EST
Details and Registration


INDIVIDUAL INSTRUCTION ONLINE
Have you always wanted to learn burlesque but were too shy to be part of a group class?
Email schoolofburlesque@gmail.com for online individual consultation and classes.
Website text and calendar below is still being edited, please refer above this line for current availability.
The NY School of Burlesque combines direct training from the most glamourous performers of the 1940s-1960s with the freshness, mischief and creativity of the most prolific neo-burlesque scene in the world! All of our instructors are working, internationally-known professional performers, and our environment is warm, supportive, and inclusive. We offer a wide range of classes for entertainment, exercise, or training to perform, depending on your level of interest. Plus, you can request a private class for you and your friends at any time!
Online Friday, March 27, at 3 pm EST! (check your time zone!)
Jo Weldon and Indigo Blue offer this free & extremely DiY online arts & crafts fun hour. They will be drinking tea and making Burlesque pasties out of materials found around the house. Join in for this free & fun session. You might gain a few useful tips, if you're lucky. This is FREE but you must register to attend!
Sign Up
Special Online Event!
Leopard Print is burlesque's signature color!
Join us in a book show-and-tell brunch with Headmistress Jo March 24 at 1 pm. Requires the Zoom app. RSVPs must be received by noon.
Let's all wear leopard print and hold a cocktail glass 😺 To attend, send your email address to historyofleopardprint@gmail.com with the words "Leopard Print History Brunch 3/24" in the subject line and you'll receive the zoom invite!
This is mostly a show and tell book discussion. with lots of luscious print. You'll learn the history of the print from Egypt to fast fashion. Attendees will have the option to turn on video and show off their leopard print outfits, if so inclined.
And yes, it's free! Jo is learning how to produce live events and this will help her out -- and hopefully be super fun for all our fierce friends!
See a video book preview on YouTube.
CORE CLASSES
If you are a first timer or relatively new to burlesque, you will be comfortable in our core classes on Thursdays and Sundays. If you want to learn how to shimmy, bump, grind, fan dance, and twirl tassels, start with our core classes. If you want to create a solo routine to perform in a showcase, the Act Development series is listed below too! Plus special workshops by spectacular world-renowned performers!
COMING ONLINE FOR APRIL! MONTHLY: ESSENTIAL BURLESQUE!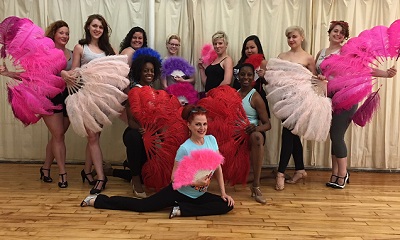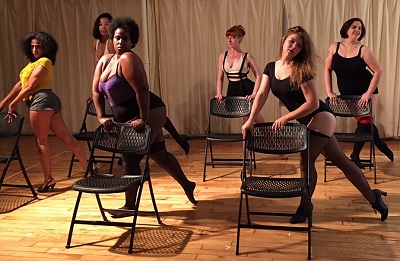 Sunday Afternoons
This is the one! Many of your favorite performers got their introduction to burlesque in this very series. You'll handle quintessential burlesque props like boas, gloves, and feather fans, while you learn secrets of performance and seduction that you can use onstage and beyond.
Includes chair dance, fan dance, tassel-twirling, and more!
Details and Registration
ONLINE THIS WEEK AND EVERY WEEK: FLIRTING WITH BURLESQUE!
Thursday nights
Registration is open now!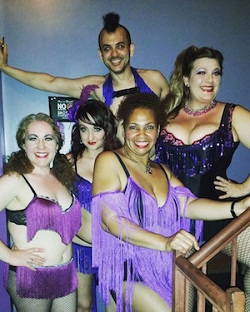 Learn a group burlesque routine! And if you want to dip a toe in our sparkly pool of performance, you'll have the option to participate in a showcase! Our "Flirting with Burlesque" class is a perfect introduction to NYSB.
Details and Registration For March and April 2020
ONLINE MARCH 25!
Book Proposal Workshop
Registration is open now!
Thinking about writing a book? Got a book you'd like to sell to a publisher? Curious about how it works? Headmistress Jo is the author of The Burlesque Handbook and The History of Leopard Print, both available now from HarperCollins, and she'll show you the ropes. Details and Registration
The classes below are being developed for online production.
PERFORMANCE FUNDAMENTALS:
THE ANATOMY OF BURLESQUE!
Sundays in February or March 2020
Curious about how burlesque performers create routines? Become a true burlesque insider as you learn all about the performance fundamentals of burlesque! Great for all levels.
Fun for any level, required for Act Development
Details and Registration
ACT DEVELOPMENT!
Five times a year
One of our internationally renowned instructors will guide students through the steps of creating a solo burlesque routine to perform in a student showcase!
More Details and Registration
SPECIALTY WORKSHOPS!
Saturday afternoons
These classes are not part of our regular curriculum and are often taught by visiting instructors. They may happen only once. Students may wonder if they should take them before they have decided if they want to perform or not -- we always advise them not to miss the opportunity to get inspired in these unique workshops!
STAGE KITTEN AND MORE WITH QUALMS GALORE!
Saturday, March 7, 2020, 4 pm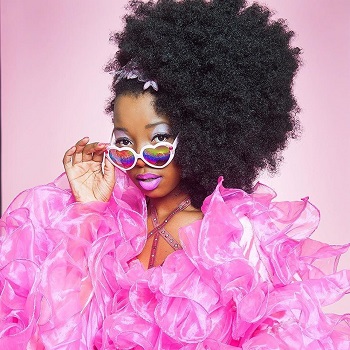 Stage kittens get the most stage time in burlesque! Learn how to get these coveted gigs.
Details and Registration
SPECIAL WORKSHOPS WITH THE NOIRE PAGEANT HEADLINERS!
Saturday, March 15, 2020, 4 pm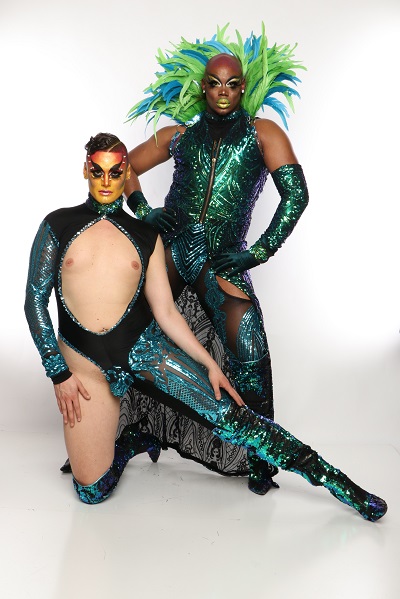 Details and Registration
FLOORPLAY!
WITH HARTLESS MALONE AND PERLE NOIRE Beginning in April
Saturdays
Floorplay! With Hartless Malone and Perle Noire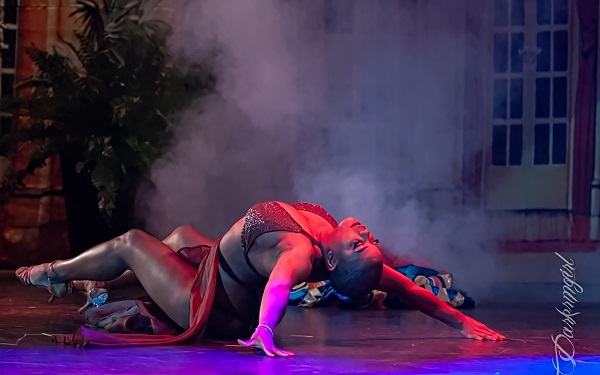 A weekly two-hour workshop to help you get fit, strong, and graceful. Floorwork is hot hot hot and you can learn basic moves and flow to incorporate into your routines!
Details and Registration
CUSTOMIZED CLASSES
If you're interested in individual one-on-one professional instruction, choreography, or consultation, we offer private classes on an hourly basis. If you're interested in private group instruction for you and your friends, we can do that too! You can use our props (boas, gloves, pasties, fans, etc.), or with enough advance notice, we can provide props you and your friends can keep! We can also recommend performers, shows, and costumers. Email glitter@schoolofburlesque.com for more information.
Give the gift of burlesque classes with our Gift Certificates!
If you've received a gift certificate and you want some help choosing classes, get in touch! Private one-on-one classes are available, as are group classes for bachelorettes and birthdays. Email schoolofburlesqueatgmaildotcom.
Throughout the year, we will be adding both classic essentials and innovative workshops to the schedule, featuring some of the most renowned burlesque teachers in the world. You can stay up-to-date on our latest offerings by joining our email list or coming back to check the calendar at the end of this page.
Check out our Headmistress on Instagram here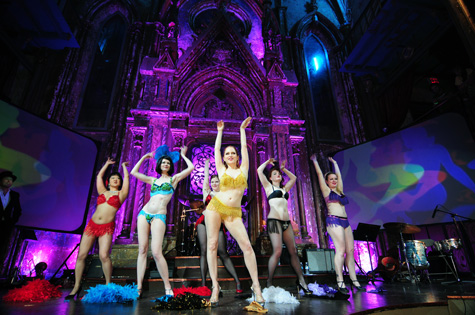 New York School of Burlesque Alumni peform with Headmistress Jo Weldon at a benefit for Coney Island USA. Photo by Norman Blake
See us in action on CBS Sunday Morning!
Like us on
Facebook
! Love the movie
Burlesque
?
Check out our "Show Me How You Burlesque" webisode series on ChristinaAguilera.com!
The calendar below is constantly being updated.