Stage Kittening and More!
With Qualms Galore
Saturday, March 7, 2020 4.00 - 5.30 pm $25

Location: 440 Lafayette, 4th Floor, Studio 4D. Greenwich Village, NYC.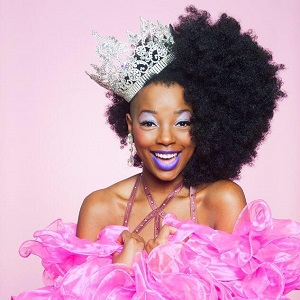 Ever wondered what it takes to be a supreme Stage Kitten? From the time you're booked until you find that last missing glove, this workshop with Qualms Galore will answer all the questions you might have about the art of the pick up!
Register below. You must register by prepaying online; you cannot drop into the class.
Please read our payment policies before registering to find out more about our policies on refunds, cancellations and transferring a class from one date to another.
In recent years, Stage Kittens have become an essential part of the modern burlesque show. Depending on the event, a Stage Kitten's duties can vary but each and every one of them is extremely important. In this workshop, you will learn how to approach producers and performers both on and off stage, you'll be taught how to be be seen and unseen at the same time and you'll master the basic moves to clear a stage with style and efficiency.
Bring a pen and notebook. Food is not permitted in the class.
>About Qualms Galore:
Meet Qualms Galore,"The Problem You Wish You Had." The sultry and seductive Brooklyn-based burlesque performer whose sweet flirtations are coveted no matter where you land on the Kinsey Scale. Notorious for her teeny tiny G-strings and ineffable smile, Galore's personal style of delicate movements and grandiose glamour fascinates onlookers to the edge of hysteria before providing a crescendo, a release, and permission to breathe once again. Whether performing on the stage of grand theater, or on the floor an intimate local social club, nothing changes. Power. Poise. Unapologetic sexuality. No ifs, ands, or butts. And most assuredly, no Qualms. She's performed as a resident stage kitten in many monthly productions over the years, including Dangrrr Doll's RAWR! Burlesque, and Pearls Daily's Heart of Darkness and Color Me FreSh and was a staff kitten at Duane Park for almost three years. Qualms is currently part of the stage unicorn army of The EAT ME Variety Show brought to you by The Brides of Burlesque, Faux Pas le Fae & Aurora North. Miss Galore was crowned the Queen of New Jersey Burlesque (2016) and is the former reigning Mx. Nobody (2017). She also earned the Hottest Freshman Award at the New York Burlesque Festival Golden Pastie Awards (2017). Most recently she was named MR(S) BIZARRE Bushwick 2018 in the preliminary rounds of the MR(S) BK pageant.