Perlesque!
With Perle Noire, Queen of Burlesque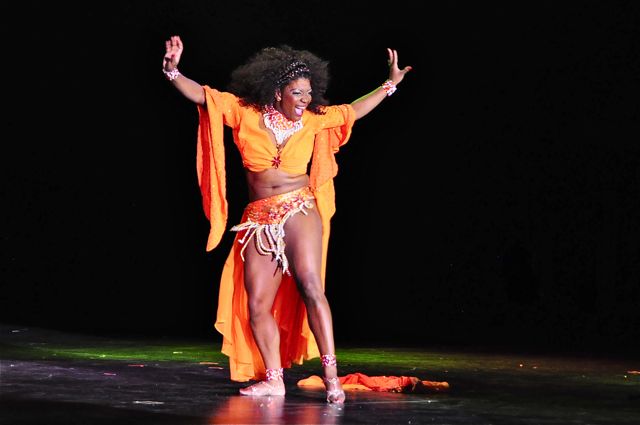 Perle Noire
January 4, 11, 18, 25
3–4PM
440 Lafayette Street, NYC
Studio 3D *Please come directly to the studio; there is no receptionist.*
Directions
$17 or $60 for 4
Please note: these classes will sell out quickly, and there won't be a thing we can do about it but add you to the long, long wait list! Do not wait to sign up!

Preregistration required for all NYSB classes. By paying to register you agree to comply with our payment, refund, and class transfer policies.
Perlesque Classique!
Perle Noire is taking a break from touring the world long enough to teach some classes here in little old NYC!
Many students have asked for a class that focuses specifically on dance rather than on creating a performance. This is the perfect class for dance fanatics who also love burlesque!
Perle Noire is known for her energetic performances, flawless dance moves, and exuberant personality that leaps off the stage almost as high as one of her trademark jumps. Have you ever wanted to learn how to incorporate this dynamic style into your performances? You can drop into this amazing class December 7, for the last of the 2013 drop-in classes!
NEW!
In January:
Perle Noire presents "Perlesque Classique," a four week choreography workshop that explores the style that has earned her awards and international acclaim!
During each one-hour class, students will learn a show stopping "Classic" burlesque act to present at the student showcase in February at the world-famous Slipper Room. The choreography will include fierce walks, glove peels, bumps & grinds, and Perle's signature high-energy flair.
The class format will include the following:
*Warm up
*Stretching
*Burlesque choreography
*Cool down
Please bring the following:
*Heels
*Water
*Black gloves
SOLD OUT.
Please stay on our email list to be notified if more slots become available.
Preregistration is required for all NYSB classes. By paying to register you agree to comply with our payment, refund, and class transfer policies.
The same choreography will be taught each week to ensure a stellar performance at the showcase.
Both novices and seasoned performers are encouraged to attend.
* Please note that the student showcase will be on a Sunday or Monday evening *
About Perle Noire
Perle Noire has been featured in several publications including the L.A Times and Pincurl Magazine. Perle won the Best Debut category at the Burlesque Hall of Fame in 2008 and went on to win Second Runner-up in the Reigning Queen of Burlesque Pageant the following year. Perle was the very first winner of the "Queen of Burlesque" title at the New Orleans Burlesque Festival. She was the featured performer at the Tetro Circo Price in Spain in 2011 and frequently tours with Dita Von Teese. All of her accomplishments and accolades are due to her amazing stage presence, seductive moves, and artistry which you will get a rare chance to learn from during the Perlesque workshop.
Above: Perle Busting out!
More School of Burlesque Classes
The calendar below is in the process of being updated.