Burlesque 201: Performance Fundamentals
Get to the next level. Become a true burlesque insider as you learn all about the anatomy of a burlesque routine!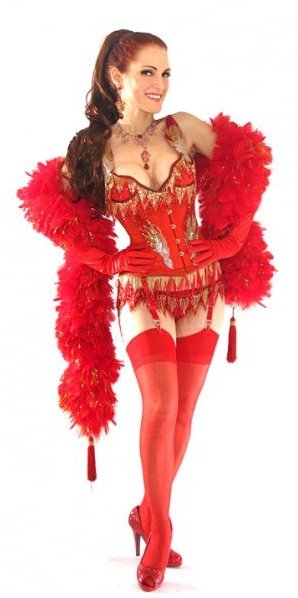 These classes are full of entertaining exercises that will build your confidence and give you plenty of food for thought. If you're not thinking of performing but you're an enthusiastic fan, you may enjoy them to deepen your understanding of burlesque. These are supportive classes, mostly concept driven but featuring some acting, dancing, and choreography exercises that will have you on your feet and having a fabulous time!
Preerquisite for Act Development 301, where you'll apply everything you've learned in a four-week session that ends in a student showcase performance.
Plus, you'll have a chance to come up with a stage name and you'll receive our 36-page handbook on how to get gigs.
Location: Playwrights Horizons Studios, 440 Lafayette St, Manhattan, NYC 10003
Required prerequisite for Act Development.
March 1, 8, 15, 22 11 am -12.30 pm, 440 Lafayette St., 10003, Third Floor, Studio 3D.
Please note, choreography and costuming have switched dates, so now choreography will be on March 15 and costuming will be on March 22.
This series will not run in April.
Save $25! The discount option in the button immediately below is for all 4 dates in March.

If you're thinking about taking Act Development, where you work with a group of students to workshop solo numbers into stage-worthy pieces, these are the elements of performance you will need to consider to create your routine. This series of foundational classes will help you build the movement you learned in Essential Burlesque into a routine that's satisfying for both you and the audience. You can take this before or after or simultaneously with Essentials. If you can't take it before Act Development, send an email to headmistress@schoolofburlesque.com apply to skip it.
Instructors will vary, but will all be internationally recognized performers with a track record of successful, supportive teaching.
The questions below are just some that will be answered in the workshops. They will be taught as they apply to both classic/showgirl/glamour burlesque and performance art/nerdlesque/comedy burlesque. If you are concerned that the style of burlesque you like will not be addressed, you need not be -- these are fundamentals that apply to all styles.
Theme, Persona, and Stage Name
How do people come up with ideas for acts? Do they start with the theme, music, or costume first? Is the idea coherent throughout? Is your idea original? Are any ideas original? How do you get booked? What kind of act helps you get booked the most? We'll answer all these questions and give you plenty of inspiration to create original, satisfying acts that express who you really are, whether you're working to become a showgirl, a clown, a pop culture nerd, a political activist, or a mix of everything! Includes a 36 page handbook on how to get gigs.
Costume
What do you need to consider when making a costume? How can you assemble one without breaking the bank? How do I costume for a character? Do I need a million rhinestones? What is it like to work with a costume deisgner? How do you do glitter lips? We've successfully made last minute costumes on a shoestring as well as developed expensive and complex costumes, and we'll answer your questions!
Music
What is a burlesque standard tune? Should you use it? Is any kind of music off limits, and if so, why or why not? How does your music set up audience expectations, and how should you handle them? How can you make the most musical moments to exaggerate significant moments in your routine? Choosing music is one of the most fun elements of creating an act, and it is the single most important decision. This class will make sure you know what you need to know to make a selection that works for you and your audience.
Choreography
Where do you start and where do you end? When should you choreograph and when should you improvise? How do you map music for strip tease? How do you create innovative movements and gimmicks? How do you get back into your original excitement and energy after all that memorization? We'll get you on your feet and teach you about musicality, dance, and play.
Come with a notebook and wear clothes you would wear in a dance class. No meals are permitted in the studios but you are welcome to bring a water bottle and small neat snacks such as energy bars.
Please note, classes are 18+, but you must be 21+ to perform in our showcases.
Thinking about performing? Read Below!
None of the below are a substitute for taking a class, but they will help you!
Read The Burlesque Handbook before taking Act Development You will benefit much more from Act Development if you do so.

Many of our students have gone on to international careers! If you're thinking about performing, whether just once for the experience or you want to put in the years and commitment to becoming a fulltime burlesque performer, you're in the right place to get started.


CORE CLASSES

Flirting With Burlesque
Thursdays 8-9 pm
Learn a group routine.
These classes can be taken as drop-in or as a series. There is no showcase for this class, but students who have taken three of a series are given the option to perform the group number they learned in a showcase.

Essential Burlesque
Sundays 130-330 pm.
These classes are a four-part series.
Learn the vocabulary and movement of burlesque! Includes striptease psychology, chair dance and stocking peel, fan dance, and learn a classic routine with a boa, gloves, bumps n grinds, and tassels. There is no showcase. This class is a prerequisite for Act Development.

Performance Fundamentals
Sundays 330-5 pm
These classes are a four-part series.
Learn how we choose music, assemble costumes, create choreography, and use themes in solo routines. There is no showcase. This class is a prerequisite for Act Development as of spring 2020.

Act Development
Sundays 330-530 pm
These classes are a four-part series as of March 2020.
Ends with a showcase where you can perform your original solo routine!
Take everything you've learned and build a solo routine with expert guidance from your instructor and support and insight from your classmates. This series concludes in a showcase.
If you have not taken Essential Burlesque and Performance Fundamentals, you can apply to take this series or get private instruction.
We also run the Coney Island Master Class in Burlesque every summer, with a showcase in the Coney Island USA theater. There are no prerequisites for this but you won't regret having taken any of our classes before you take part.
SPECIALTY CLASSES
We run specialty classes on one or two Saturdays per month, often featuring traveling instructors, on an irregular basis. To be notified, stay on our email list. There is no prerequisite for most of these classes, and information about each is specifically detailed in the indivual class listings. They are often one-time offers from traveling instructors, so feel free to take those at any time, as you may not have another opportunity in NYC. Those teachers will not be preparing you for a performance but they will be teaching skills that will broaden your skill set and improve your performance ability, as well as giving you an opportunity to network with influential burlesque figures.
Our instructors are all available for one-on-one private coaching and act development. Email schoolofburlesque@gmail.com for more information.
We produce approximately 4-6 showcases a year. We also occasionally present additional showcases as the occasion warrants, including one from the Coney Island Master Class in Burlesque every summer, with its own special showcase in Coney Island.
We welcome all styles of burlesque, from showgirl to comedy to avant garde to political. However, there are some limitations on what solo performers can do in our shows in order to comply with the concerns of our venue. We are not allowed to have full nudity. We prefer no liquids, glitter spills, or wax or food on the stage. We will not help develop or present acts we believe have content offensive to marginalized groups, such as cultural appropriation.
Headmistress Jo Weldon is the author of The Burlesque Handbook, internationally renowned as the bible of burlesque. It is a thorough guide on how to put an act together and includes tips on everything from finding inspiration to making pasties to making sure you get asked back once you've been booked at a show. It is available on Amazon and wherever books are sold.
Check out Jo Weldon's blog, which is full of incredibly useful tips for learning history, movement, act development, and more.
Check out this article, for starters!