The Original Burlesque Party Providers!
Party Plans • Pricing • Book Your Party! • Testimonials
To book a party, email glitter@schoolofburlesque.com.
Looking for a unique group experience during social distancing? You can arrange a private vintage-style burlesque workshop party for you and your friends on Zoom! Perfect for birthdays and bachlorette parties! It will be as interactive as you like, with tips on flirtation, seduction, and the psychology of striptease. You set the tone! All you need is a hoodie, cardigan, or button down shirt!
Email glitter@schoolofburlesque.com for more information!
If you want props involved and you can plan in advance, you can schedule classes like boa play, fan dance, and tassel twirling, with expert guidance to help you manage your online event.
In-person parties can resume when studios are permitted to reopen.
Below are offerings pre-social-distancing. They are left here so you can get a sense of what you might want your party to entail.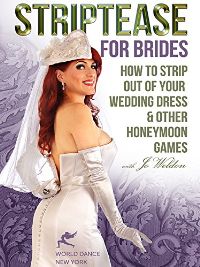 Jo Weldon's Striptease for Brides DVD, available from worlddancenewyork.com.
Let us help you turn any event in to a party! We specialize in bachelorette, birthday. and hen parties, and we are also available to give private lessons, group instruction, and teach choreography. We can also provide instructors, dancers, and variety entertainers for any event or project. Your attendees will have fun, take away new skills, and feel great about themselves and their bodies.

Our basic package is $300 for a one-hour workshop up to 12 people, which includes your instructor, your studio, striptease and seduction tips, and use of our props such as opera gloves, feather boas, and chairs. Your guest of honor will get to pose with our giant ostrich fans, and we'll help you arrange Instagram-worthy shots! Email now at glitter@schoolofburlesque.com, or read on for more inspiration.

We've been the premier burlesque party provider since 2003. Our instructors are award-winning and critically acclaimed performers who know how to put your partygoers at ease and make sure everyone has a good time. We've been featured on Christina Aguilera's website for the movie Burlesque, MTV, CBS Sunday Morning, The New York Times, and more. You can rely on our experience and expertise to assure your event is memorable and fun!

Our parties are sexy and smart! We provide a real learning experience in an authentic New York professional studio environment, with the playfulness of a party and the know-how to work with everyone's level of comfort and experience. We provide boas and gloves for your partiers to borrow to make selfies and group photos fun, and with advance notice we can provide boas and gloves for your partiers to keep.

Many women have described our burlesque bachelorette parties as the best times they've ever had at a bachelorette party! But don't take our word for it, read testimonials from some of our clients.

To book your event, email us at glitter@schoolofburlesque.com. Please include your desired date, time, number of people in your party, and preferred type of party in every email of our correspondence.

The classes are choreographed with the assumption that at least some of the people in the class will have no dance experience, and that you are looking for a simple but entertaining routine.

Your party can include a variety of props and styles. However, in order to provide a quality experience, it's not possible to fit every prop and style into one party, so choose one style you think will be the most fun for you and your friends.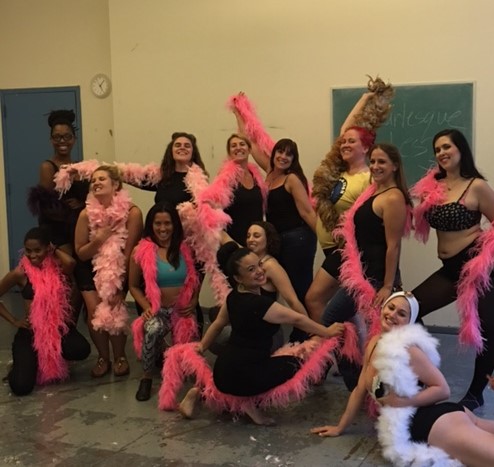 A boa class at the New York School of Burlesque.
Party Plans:
1) The Shimmy
:
For the relatively shy, a class where you'll learn bumps n grinds and basic burlesque moves. Great for baby showers, birthdays, and corporate events! No nudity, movement only.
2) The Teaser
:
For any type of party, we offer a class to teach attendees how to strip out of street clothes in a teasing and playful manner. This party is ideal for those who want to learn tips of seduction along with some practical information on posing and peeling.
3) The Twirler
:
For the more adventurous, you'll learn a complete burlesque routine, including the use of feather boas and satin gloves! Without tassels, the end of the routine will be a shimmy. With tassels, the class closes with nipple-tassel twirling, which works best with participants being topless. Tassels available for purchase upon request and by advance arrangement only; tassel-twirling lesson must be requested no less than a week before the event or tassels may not be available for use at the party.
4) The Cabaret
:
A saucy chair dance routine to make everyone feel like a cabaret dancer.
5) How to Strip Out of a Wedding Dress!
Or anything, really! Bring any garment to this party and the instructor will teach you a sexy, playful, skillful way to strip out of it. Includes general striptease and seduction tips. If you request at least two weeks in advance you can add "Striptease" DVD's for attendees for $15 per DVD.
6) The Booty
:
Your instructor will lead your party through a set of booty moves that are fast, fun, and outrageous!
7) The Fan Dance
:
Indulge yourself in a feathery extravaganza of tease!
You'll start out learning a group routine with small feather fans, then each of you will get to pass around the big Ostrich fans! You'll learn to flirt, flutter, and flash while learning secrets of tease and seduction. Best selfies ever! Note: We use the School's fans in the class. If you wish to purchase fans, we recommend The Feather Place at 38 38th Street in NYC. We can advise you on purchasing fans online or can purchase them for you, however, you should note that they are pricey and are custom made, requiring time to deliver.
All parties are designed to run approximately 60 minutes. You can wear whatever you like, though for chair dance you may want to wear shorts or leggings, as skirts impede the choreography.
We can also provide burlesque and variety performers for your event, including an entire burlesque show.
We do not serve alcohol or food during parties. Time to stop for drinks or snacks is not built into the class structure. However, you can book a burlesque instructor (and/or performer) to come to your party at your location!
See Headmistress Jo Weldon teaching in Milan, Italy:

Check out the trailer for our Striptease for Brides DVD:
Click here to order!
Jo Weldon coaching Chrissy on "Love and Hip Hop."
Pricing
Bachelorette, birthday, and hen parties are $300 for up to 10 people, plus $25 per person after 10 people. A $100 deposit is required for all plans unless otherwise noted in the
plan description
. Your bachelorette party is NOT confirmed until we have received a deposit.
To make a deposit:
• go to PayPal.com
• click on "send money"
• Enter the email address given to you by Fannie, our party booker, and the amount ($100.00), and choose "services," then click on "continue"
• Be sure to enter your name, desired date, time of your party, and estimated number of attendees in the message box on the page that appears after you click "continue" in the last step. You will receive an e-mail receipt from PayPal as well as an acknowledgement from us that the details in your message box are confirmed, which is your contract for the party.
Refund Policy:
If something has come up and you will not be able to plan your event with us, we do offer refunds. Please allow THREE (3) full business days before your event to request a cancellation if you would like a refund. Without this THREE (3) day notice for cancellation, we will be left holding the cost for studio rental, and the instructors will be unable to book themselves for other classes or events if they reserved their time for you. The deposit is intended to cover our costs if you must cancel with short notice.
If your event (such as a bachelorette, birthday, or other private party) allows a deposit (not all classes do), that deposit is fully refundable up to ten days before the event, and 50% refundable up to a week before the event. After that it is nonrefundable and nontransferable.
Parties or private lessons or events booked less than a week in advance must be paid in full in advance. If you have to cancel we will refund all but your $100 deposit. Change of date is the same for us as a cancellation because we still had to reserve your time slot and turn down other people who might have been interested.
For parties, you may not consider your reservation confirmed until we have received a deposit. If we don't hear from you for awhile and don't receive a deposit, we will assume you have changed your plans.
If we cancel for ANY reason—bad weather, accident, etc.—we will refund your payment as quickly as we can, even if it is difficult for us to repay you, even if it costs us additional money.
Book Your Party
For all parties, email a request with your desired date, start time, number of people in your party, and number and name of your preferred type of party to schoolofburlesque@gmail.com. Most parties are held on Friday and Saturday nights at either 5 or 7 pm, but we have other options as well.
Please include your desired date, time, number of people in your party, and the number and name of your preferred type of party in EVERY email of our correspondence.
Please note if you are using more than one email address to correspond.
Location
Your place or ours! If you choose to come to us, we prefer to use a dance studio but may have other venues available. Our favorite Dance studio location is in Greenwich Village, convenient to great bars and restaurants. If you would like us to come to your place, an additional $50 travel fee will apply. Other travel fees may apply to areas outside of Manhattan.
Testimonials
"It was AWESOME! Thank you!" -Robyn Z

"We had such a wonderful time at our party. Gal is such an incredible instructor and so hilarious. Definitely going to tell everyone I know how much fun we had and so is everyone at the party! Everyone is still talking about it today and I know it was the energy that Gal was able to create that helped get everyone into pasties to twirl! Can't wait to go see her in action at the Slipper Room. Thank you so much again, my only regret is that I wish I had planned the party with you from the start!" -Jodie L

"AMAZING AMAZING AMAZING!!! Thank you so much for such an amazing time on Saturday night. The entire group had a ball and everyone of them talked about what a unique idea it was. Darlinda was beyond wonderful. She was sweet and funny and made everyone feel so comfortable! Again, thank you so much! I will tell everyone I know about you guys and will definitely be using the School of Burlesque for parties in the future!!" -Bonnie H

"I just wanted to take a moment to let you know what a success and delightful experience it was to work with all of you! I recently booked a bachelorette party with the New York School of Burlesque. From the very first email, I knew I had made the right choice. Michelle was terrific; stayed in constant contact with me and even went above and beyond helping me with the booking process. With my crazy work schedule, she was well beyond accommodating. On the day of the event, I was delighted to receive a phone call from Gal Friday, introducing herself and giving me her number in case there were any questions or concerns. Though I arrived with my group a bit flustered, Gal Friday made us feel welcome and soon all our problems were forgotten. Everyone had an amazing time! Gal Friday's enthusiasm and expertise made us feel completely at ease and her love of burlesque was infectious. All the girls who have attended have done nothing but rave about the whole experience. Thank you, thank you from the bottom of my grateful heart. You have created a fan for life in me (and many others). You can expect to see us again!! Sincerely (one very satisfied customer)," -Susan T

"We absolutely adored the class!!! It was incredible and Jo was an absolute inspiration. We could not have been more comfortable or had a better time. We have been telling everyone we can about the class and I feel 100% sure you will get a few referrals from our group. Really, the class was not only fun, but informative. I feel like we all walked away smiling and with not only some fascinating new talents :-), but with a true appreciation for the artform, history and fabulous women of burlesque. Please thank Jo for us. She is an amazing woman and an incredible teacher. Thanks also to Gal Friday who was awesome at the Slipper Room (we stopped in to see the show after our class)! We will all be back for more classes and can not wait to do it again! Thanks so much for helping us to set up the class and keep up the good work there! I wish all women would take the time to learn a little burlesque. The world would be a nicer and sexier place!!! Thanks a million!" -Jennifer

"Thank you so much. We had a blast. Darlinda was professional, fun and extremely talented." -Diana D


SISTERHOOD OF THE TRAVELING PANTIES
If you are in another city, check out these sister burlesque schools:
Chicago – Studio L'Amour
New Orleans – New Orleans School of Burlesque>
Seattle – Academy of Burlesque
Click here for other School of Burlesque
classes
.