Loving The Body You're In

(All Genders Welcome!)
with
World Famous *BOB* and
Legs Malone
October 25, 2015
12:15pm till 5:00 PM (NO LATE ADMITTANCE PERMITTED)

440 Lafayette Street, NYC
Studio 4E *Please come directly to the studio; there is no receptionist.*
Directions
$95

Click the Paypal button below to register! No drop-in permitted. By paying to register you agree to comply with our payment, refund, and class transfer policies.

About this class:
Are you tired of negative thoughts and body criticism? Have you had enough of feeling like you're not good enough or unworthy of having what you want in life, including a happy and healthy body? Our bodies are a gift and a blessing yet it is so easy to heap our frustrations and thoughts of imperfection and failure onto them when, in truth, they deserve our love, forgiveness, attention and gratitude.

Join burlesque stars and body positive proponents World Famous *BOB* and Legs Malone for a full-day workshop of healing, love, forgiveness and letting go.

This full day workshop will include World Famous *BOB*'s Ultimate Self Confidence! Workshop in a brand new all gender inclusive format and a new version of Legs Malone's Healing Your Relationship with Your Body workshop that focuses on forgiving and letting go of any hindrance or limitation to full self acceptance. There will be a break for a light snack in the afternoon and a closing ceremony at the end of the day.

Participants are asked to bring paper and pen, a bottle of water, and a snack they can enjoy in the hall during the break. There will not be time to run out to eat. Wear comfortable clothing. Also when signing up for this class we recommend that you have the rest of the evening free to create room for the feelings that come up when we do this very important work.

Please note, due to the intimate and radical nature of this class, promptness is crucial. This class begins at 12:15. Anyone arriving after 12:15 PM will not be allowed in OR refunded.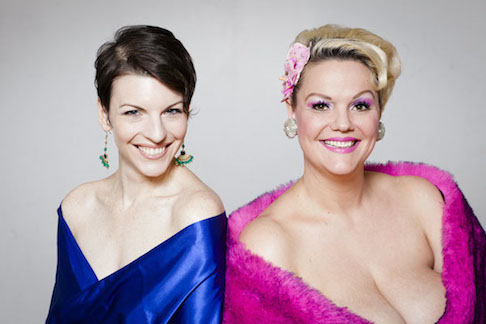 photo credit: Deidre Schoo
About The World Famous *BOB*
The World Famous *BOB* began her career as a go-go dancer in a cage in a nightclub in a small town in California at the tender age of 19. The first night she EVER stepped up on stage a group of obnoxious college boys screamed over the music "Hey look at the fat girl in her underwear!" She made her life decision to make it right then and there, and now 24 years later she'd like to share with you the tools of how to make powerful decisions ON THE SPOT about not only who you REALLY ARE as a performer but also as a person.
A burlesque star who's travelled all over the world for 18 years including to Vienna, Paris, Canada, Amsterdam, Helsinki, Stockholm and numerous US Cities. She has taught her USC! (Ultimate Self Confidence!) Workshop series since 2004 starting at the New York School of Burlesque. Versions of her workshop have been taught everywhere from Finland to S.A.G.E. LGBTQ Senior Citizen Center in Chelsea! *BOB* is also a regularly scheduled speaker at NYU.
About Legs Malone
Legs Malone, the Girl With The Thirty-Four and a Half Inch Inseam, is a burlesque performer, producer, host and teacher based in Brooklyn, NY. She is the producer of Wolfshine Burlesque in Brooklyn and host of the Lunch With Legs podcast. Offstage, Legs is a rebirthing breathworker, Wu Tao Dance teacher, bodyworker and reiki master.
The calendar below is in the process of being updated.