Leopard Print Pasties
Leopard Print Pasties
BEGINNING FEBRUARY 2020
Get your own pair of unique crystal leopard print pasties with tassels, handmade by Jo Weldon!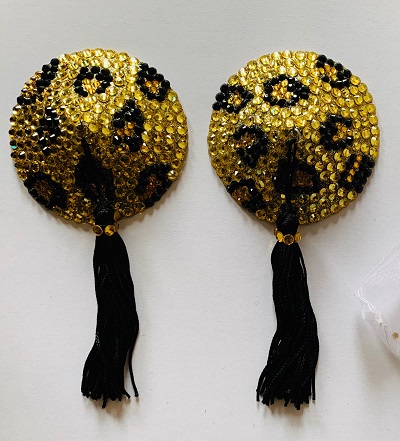 Order by nipple diameter. Lay a ruler across the widest part of your nipple areola to measure.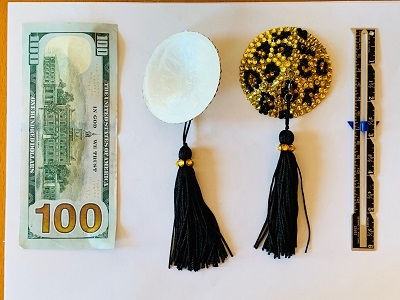 Pasties are made on order unless posted as "for sale now." Expect them within 2-4 weeks.
Select from dropdown menu below to order. Measurements will be approximate.
Shipping 7.90 priority usps mail is added. You may suggest an alternative shipping method. Currently not shipping internationally.
About the pasties:
Pasties will be made on lightweight bases of 3d printed plastic or buckram with a mix of rhinestones, usually Preciosa and Looking Glass Gems. Tassels are chainette rayon, and are on spinners unless requested otherwise. The insides are unlined to help keep them light. Recommended adhesives: garment tape, toupee tape, spirit gum, mastic, latex glue.
No two pasties look alike! The pattern on the pasties is irregular to evoke natural leopard print, but stylized with the spots further apart to make them more visible. You'll be sent a picture of your custom pasties to approve before shipping.
About the pastie maker:
I'm Jo Weldon. I'm the Headmistress of the New York School of Burlesque and the author of The Burlesque Handbook, Fierce: The History of Leopard Print, and the upcoming Dressed Like A Whore: A Memoir Of Sex Worker Style.
At the end of November 2019, my work bag was stolen. It contained the props I use to teach burlesque: boas, gloves, fans, and pasties, as well as the clothes I wear to teach, my speaker and cords, and the suitcase itself.
I needed to raise money fast so I could get the props and be able to work.
I put out a notice to the burlesque community on social media. I said I was available to fill in as a host and performer and offered to make custom leopard print pasties. The support was incredible. My former students hired me for their shows. People made enough cash donations to cover the cost of replacing boas and gloves and some of the other equipment. Tiger Bay donated a pair of beautiful fans. And people ordered leopard print pasties in droves, in a matter of days. I was crying with gratitude.

It took me almost two months to handle all the orders. Even though I've taught thousands of people to make basic pasties, I wasn't used to making pasties on demand, or to making spinners. I didn't know how to keep the right amount of supplies on hand. I had one delay after another, but I got all of them done, except for one 4-inch pair that was too expensive to produce at the price I had set. I learned A LOT.
In fact, I learned so much that I want to keep doing it, and eventually replace everything that got stolen! If you order these you are not only getting a unique item (I draw every leopard spot by hand and no two pasties are alike), you are helping me run the school where I've taught thousands of people to twirl tassels. There is nothing like putting tasseled pasties on a roomful of people who hardly know each other and then watching them look in the mirror at their half naked bodies with new delight as they learn this silly, sexy skill. I'm indescribably happy that I get to help women look into the mirror and smile.
Stay Fierce!
Questions? email historyofleopardprint@gmail.com.
See closeups of pasties below. No two are the same!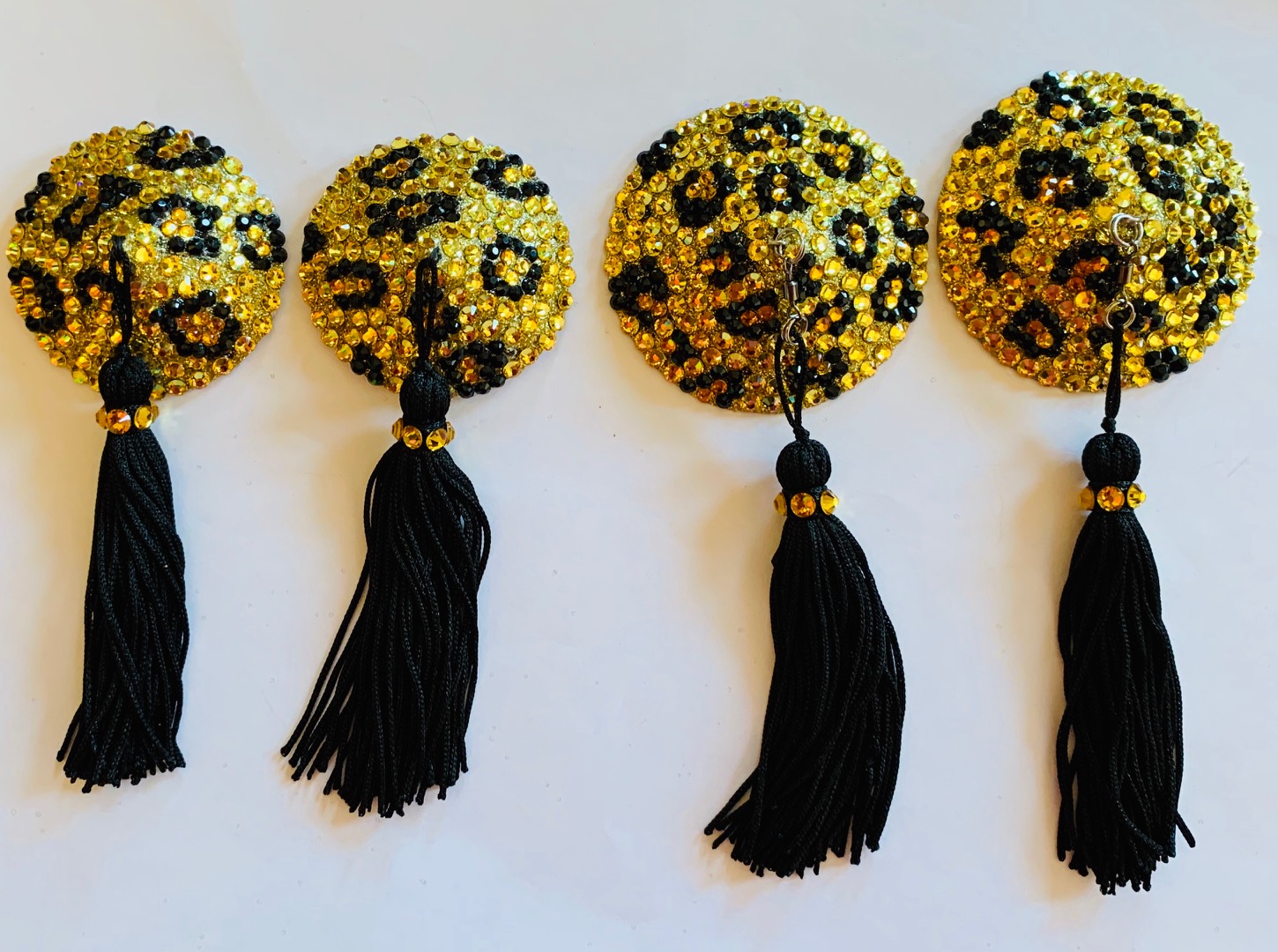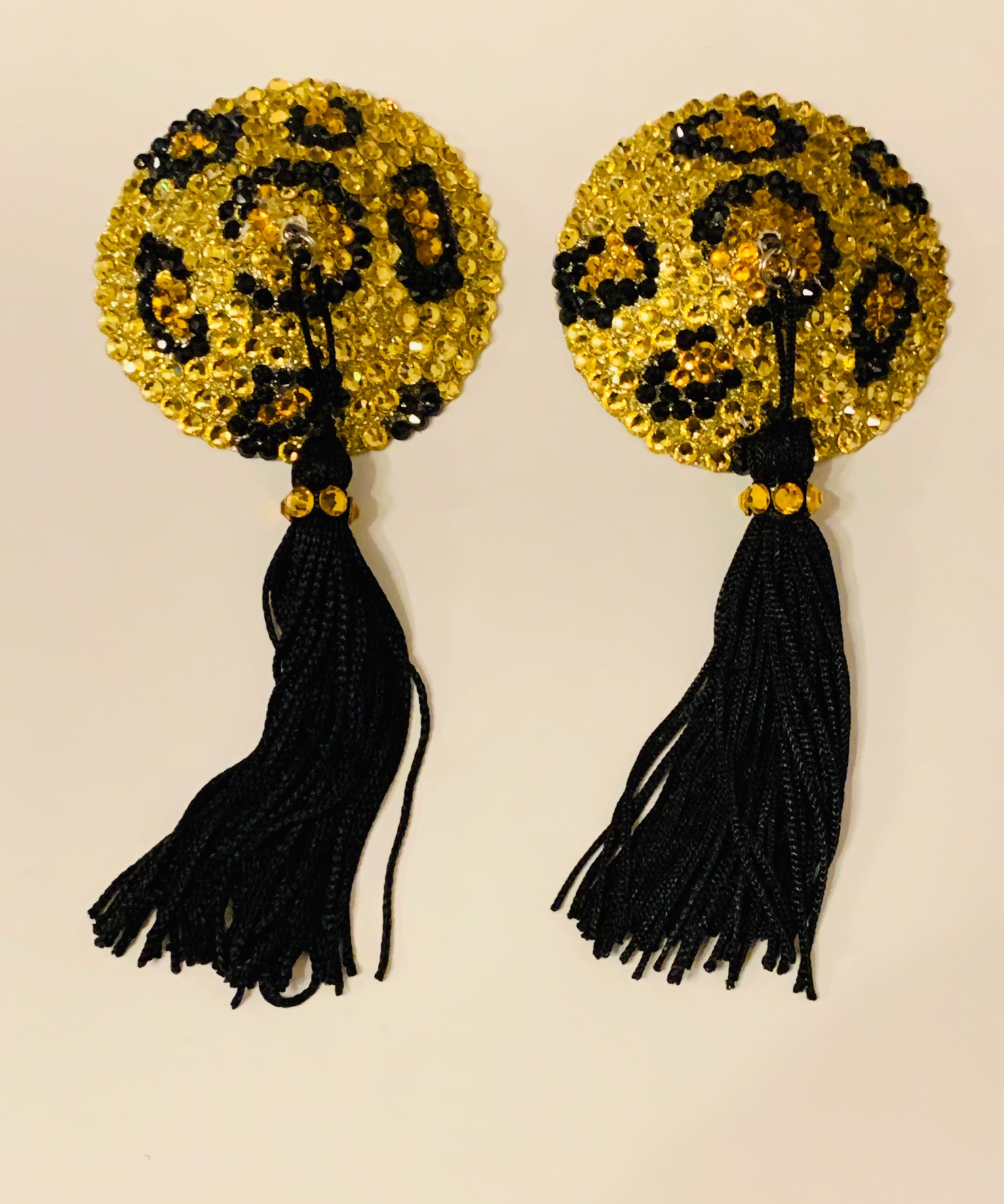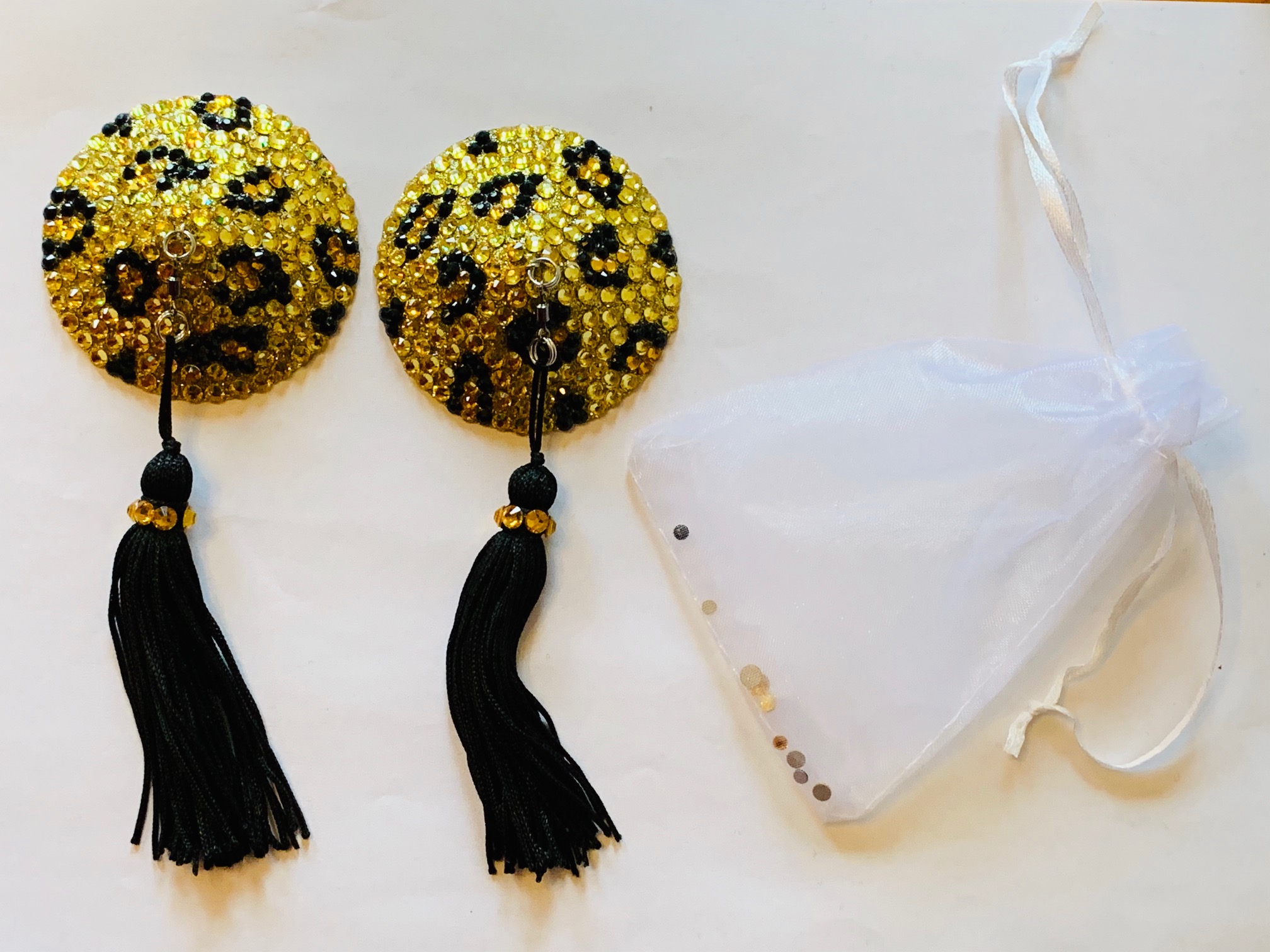 The calendar below is constantly being updated as new classes are added.