Lap Dance!
with Peekaboo Pointe &
Jo Weldon
About This Class • About Your Teachers
Just in time for Valentine's Day, it's our annual lapdance extravaganza! Class is for women only!
Come learn secrets of flirting, seduction, and enticement! A lap dance is a sexy form of clothed (or not) contact dancing in which the recipient remains seated (well, for as long as they can take it!) while the dancer teases, titillates, and tests the limits of sensuality.
You'll get tips on what to wear, how to create an atmosphere, how to choose music, and how to do the moves that devastate! Students will perform lap dances for each other in a playful and supportive environment.
February 9, 2019, 4-5.30 pm
Please stay on our email list to be notified when this class is offered again.
440 Lafayette St, NYC
Studio 4D
Directions
$35.
By registering you agree to assume all risk of physical injury. Please consult a doctor if you are not sure. Preregistration is required for all NYSB classes. By paying to register you agree to comply with our payment, refund, and class transfer policies. No dropins, as class size is strictly limited. You must prepay to attend.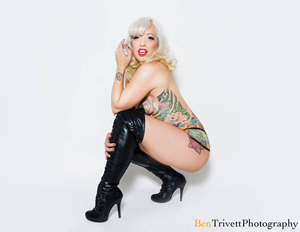 About this Class
Learn how to set a mood, choose music, and devastate with sensual and wild moves!
Prepare to have your boundaries charmingly violated in this full-contact class! You'll learn how every sense can be engaged in a dance that makes the recipient want nothing more than...another lap dance!
No nudity, though plenty of striptease tips will be included.
A lap dance can be foreplay, or it can be a pleasure unto itself. We're going to show you how to engage eye contact, breath, scent, proximity, and touch to make it seem as if that chair is the center of the sexy universe. You'll take yourself and your partner into another world!
Women Only. We are preparing a class for couples, so stay tuned if you want to bring a lover next time.
Wear something comfortable, like leggings, yoga pants, or shorts and t-shirt.
This class is designed to prepare you to give lapdances to friends and lovers with powerful playfulness and irresistable physical flirtation!
About Your Teachers
Peekaboo Pointe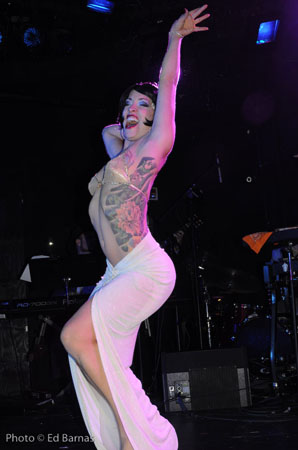 Peekaboo Pointe by Ed Barnas
Peekaboo Pointe puts the ass in classic!
If you've taken Burlesque Booty, you know she's got the shimmy going on! She is certified to teach Pilates, has a degree in choreography, and has mad pole dance skills, but burlesque is her first love. Her performances are characterized by high femininity, high humor, and high kicks!
Jo Weldon
Honey & Spice: Sensual & Fierce Burlesque with Jo Weldon
Jo has been the headmistress and founder of the New York School of Burlesque since 2003, and has taught classes on burlesque movement in the US, Canada, Europe, Australia, and New Zealand. She has been ass-tasseling around the world and shaking her tush in strip joints since the 80s. You can see Jo bouncing and asseling on page 81 of The Burlesque Handbook!
The calendar below is constantly being updated.