Join us for an hour while we talk about books, books, books, and burlesque!

August 5, 6 pm-730 pm EST on Zoom: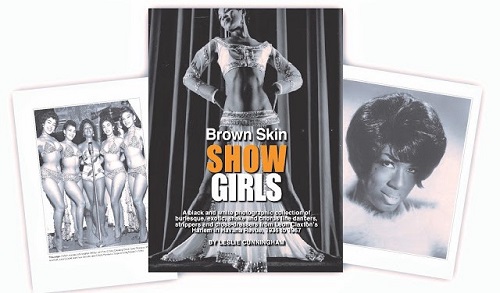 Missed the live event? You can watch the video!
Burlesque Historian Bebe Bardot will guest host, interviewing author Leslie Cunningham about her book Brown Skin Showgirls.
There are many art and entertainment resources that reference the contributions and important role women of color played in shaping the art of dance in North America. However, it is rare to encounter a historically rich and visually stunning book that is dedicated solely to the brown skin showgirl or black burlesque of the early to mid 20th century. BROWN SKIN SHOWGIRLS is a black and white photographic collection of burlesque, exotic, shake, salsa and chorus line dancers, strippers and cross-dressers from Leon Claxton's Harlem in Havana Revue during its run on Royal American Shows from 1936 to 1967.
The Book Club Show is free on Zoom but you must register. Email schoolofburlesque.com with the words "NYSB BOOK CLUB" in your subject line to join the general email list, or "NYSB BOOK CLUB + DATE" for a specific event. You'll receive a zoom invitation the day of the show. If you haven't received the invitation within an hour before it is set to begin, please send us another email.
The book club will take place irregularly, to suit guests' schedules. Each show will feature a different book. On special occasions I'll interview the author, or have a guest come on to talk about one of their favorite books.
To keep notified of upcoming sessions and invited guests, book mark this page or join NYSB on Social Media:
Instagram: @nyschoolofburlesque
Facebook: New York School of Burlesque
August, Date TBA:
I'll be interviewing Bambi Jones (AKA Doris Kotzan, author of
My Journey: Burlesque As It Was.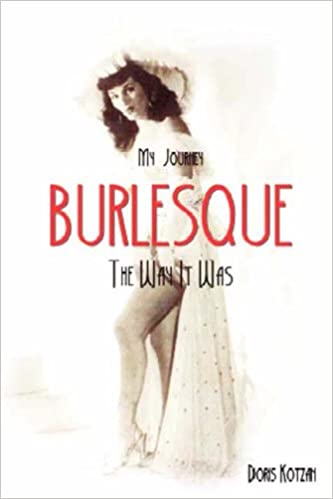 When the live variety shows known as vaudeville faded away, many of the novelty acts moved their work to the burlesque stage. And when burlesque died, many of the remaining acts sought work on the stages of nightclubs, dine-and dance clubs, and show bars. In My Journey, the author touches on the neglected subject of the nightclubs of the 1950s and sixties. After the sixties, many of the clubs started using go-go dancers, heralding the demise of the entertainer with a wardrobe. In her lifetime, the author has witnessed vaudeville, burlesque, supper show clubs, and even go-go clubs, fade and eventually die.
MOVED TO SEPTEMBER
July 11, 2020 4 pm EST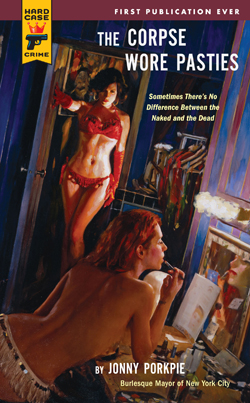 Author Jonny Porkpie and publisher Charles Ardai join for discussion of The Corpse Wore Pasties, a murder mystery set in the New York Neo-Burlesque community.
I'm approaching more authors to guest in July and August! What are your favorites? Who would you like to meet/discuss?
PAST BOOK CLUB EVENTS:
June 27, 2020, 4 pm EST
Check out my (book) rack!
I'm going to talk about and compare some older burlesque history books and some new ones, including autobiographies. Who writes history? Who gets published? How can you write history yourself, and make sure it gets recognized? I believe this is a new era of writing history and we all have a chance to affect it.
No event July 4.
Saturday, May 30 Saturday, 4 pm EST (free, but registration required):
Re-Introducing The Burlesque Handbook
Jo will discuss how she came to create and publish The Burlesque Handbook, and will talk about Dixie Evans and Jennie Lee, the founders of The Burlesque Hall of Fame, to whom the book is dedicated. After her talk, she'll open up the chat to QNA.
This will also kick off the School of Burlesque Book Club, where a different burlesque book will be discussed every Saturday at 4 pm.
To register, email schoolofburlesque@gmail.com with the words "Registering for May 30, 4 pm EST" in the subject line and the code RITBH in the body of your email.
June 6, 2020, 4 pm EST:
The Costumes of Burlesque
With Author Coleen Scott (AKA Rosey LaRouge)
June 6 is the first anniversary of the release of this fabulous book! Join Jo for an interview with the author and join the QNA. Coleen Scott is also the creator of The Pastie Project.
The Costumes of Burlesque: 1866-2018 is the first volume to inclusively document burlesque costume from its birth in the 1860's through the global burlesque movement in 2018. This lushly illustrated book presents the history and development of this American art form by documenting the origins, influencers, and genuine articles that created its aesthetic. Showcases of legendary performers, including Lydia Thompson, Gypsy Rose Lee, Sally Rand, Bettie Page, Kitten Natividad, and Dita Von Teese, demonstrate costume styles through the years.
More About The Book and Author
June 13, 2020, 4 pm
Coco Ono and Jungmok Yi will discuss
Are We A Joke? Volume 1: Burlesque
This book project is a submission-based publication highlighting Pan-Asian LGBTQIA/womxn artists. It represents stories written by the artists, turning the paradigm of the exclusive system in the arts with an answer: No. We Are Not A Joke.
To attend email schoolofburlesque@gmail.com with the words "School Of Burlesque Book Club June 13 2020" in the subject line of your email.
June 20, 2020 4 pm EST

Tigz Rice joins to discuss her book
STRIP|TEASE – The Burlesque Photography of Tigz Rice
Author Tigz Rice joins to discuss her award winning book STRIP|TEASE – The Burlesque Photography of Tigz Rice - a beautiful coffee table book showcasing Tigz's photographic work within the global burlesque community over the past decade. Representing 68 incredible performers from all over the world, STRIP | TEASE includes anecdotes from the performers themselves, telling us what brought them to the stage and why burlesque means so much to them as an art form. Featured performers include Jo Weldon, Frankie Fictitious, INGA, Poison Ivory, Miss Indigo Blue, Immodesty Blaize and Michelle L'amour; alongside current Mr Exotic World titleholder Joshua Dean and burlesque legends Marinka, Judith Stein and Dusty Summers. It also includes a wonderful foreword by burlesque sensation Dirty Martini.
In addition to the book club, to celebrate The Burlesque Handbook's tenth anniversary Jo will be launching:
The Burlesque Handbook Series 2020
Tuesdays, 6 pm -6.55 and 7.05 pm-8, EST
This series is underway but you can still register for these workshops individually :

June 23
Movement with demo and choreography
Bump N Grind N Shimmy
Demos of construction and decoration, with shopping guide
Pastie Construction, Basic to Advanced, and adhesive options for applying them to your body

June 30:
Movement with demo and choreography
Fan Dance: Ostrich Feather Fans, includes shopping and construction tips
Movement with demo and choreography
Tassels, Assels, and Anarchy: Learn how to twirl tassels in every direction on any part of your body!

July 7:
Choosing Music, Choreography Tips
Costume Ideation: What Makes A Costume?

July 14:
Stage Names
Costume Elements: Fringe, Rhinestones, and Breakaways

July 21:
Character and Persona
Makeup and Hair Stage Glam Essentials

July 28:
Gimmicks and Props
Standing Out From The Crowd
August 4:
Online Presence
Getting Gigs

August 11 (free to all who have paid for classes in this series, use button to purchase if you have not taken any classes in this series)
Zoom link will be sent to all students who've taken any of the series classes. 6 pm Crash Course in Confidence for Onstage and Off 7.10 pm All-student meetup and qna
Invitation will be sent to all students who have paid for any of the classes above.
For students' privacy, video of August 11 classes will not be added to recorded sessions available for purchase, but an audio recording will be made for archival purposes.