Asian Burlesque Festival 2019
Instructors: Ms B LaRose and Miss Di'Lovely
Workshops With International Stars of The Asian Burlesque Extravaganza!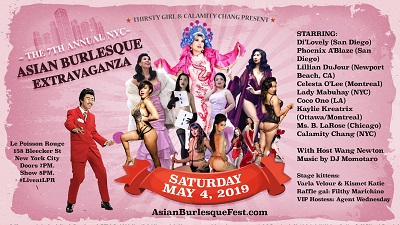 https://www.asianburlesquefest.com
These special workshops are available in NYC only in association with this annual event! Don't miss out!
Saturday, May 4, 2019, 1 - 4 pm.
440 Lafayette St, 10003, Fourth Floor, Studio 4D.
$30 per workshop, $50 for both

1 - 2.25 pm: Slay Cabaret with Miss Di'Lovely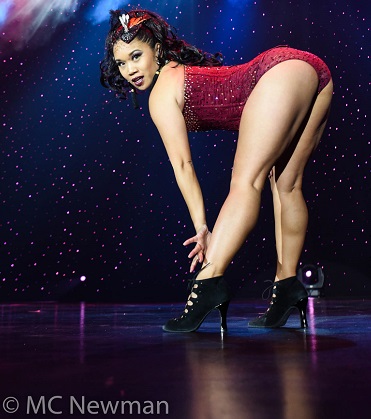 Above: Photo of Miss Di'Lovely by MC Newman.
Not for the faint of heart! This class starts with a light warm up and across-the-floor combinations to review syncopated movement, fusing contemporary jazz, modern, and hip hop. Jazz Funk is a hybrid dance style, showcasing the intense dynamics of musicality, femininity, and expression. Bring on the sass, as you learn a high energy choreographed piece. Pending on selected choreography, please bring non-marking flat shoes, heels, and knee pads.
Suitable for intermediate dancers. Dance styles: Thrash Jazz, Jazz Funk, Femme Hip Hop, Heels, Burlesque. Attire: Comfortable, fitted clothing for movement. Flexible heels encouraged, but not required. Knee pads in case you are sensitive to minimal floor work.
2.35 pm - 4 pm: Floorwork with Ms B LaRose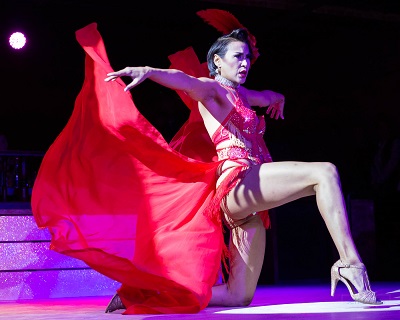 Above: Photo of Ms B LaRose by Jeff Millies
"I never felt so comfortable being myself until I had seen you dance" is one of the most compelling commendations to receive off stage. Help unleash your prowess, build self confidence, and emote to connect with your audience. Ms. B LaRose's classes are intended to help unleash the inner goddess, create a powerful presence, extend energy out beyond the stage, and be comfortable with movement and stillness.
Werk that Floor is a beginner to intermediate class that challenges students to adapt movements typically used in the club for burlesque. This class is dedicated to movement across the floor, floor transitions, transitions back up, and learning dance combinations. The course is intended to make movements more confident, acts more dynamic, and adds a little more flare and erotic elements to the sexiest acts.
Classes work with sensual movement and are part discussion. Ms. B LaRose is praised for being a motivator, great listener, and encourages students to have an open mind.
Knee Pads are highly recommended. Wear comfortable, form-fitting clothing in which one can easily move, yoga mat, knee pads, dance heels, & water bottle.
By registering you agree to our refund policies as seen in the link in the sidebar on this page. You understand that you shoudl be aware of any conditions which may make these classes unsuitable for you. You will not hold the instructors or venues responsible for any injuries sustained in the class. If you have any concerns you will comunicate directly to us.
Details:
Paypal will send a receipt which is proof of your registration.
Come directly to the studio, do not check in at the desk in the lobby.
Dress for movement classes.
Bring a bottle of water if you like. Food is not allowed in the studio.
Leave the room in better condition than you found it. Be prepared to exit the classroom immediately and on time at the conclusion of the class in order to facilitate set up for the next class. This means already have your coat, bag, etc., gathered up, do not be gathering them as students for the next class are entering on time for their upcoming class, as that is a form of stealing their space and time. If you would like to continue to chat that is welcome, and there is plenty of room in the back hallway and in the lobbies on both the third and fourth floors. There is also an excellent place to go for coffee, drinks, lunch, or brunch called B Bar at 4th Street and Bowery just a few blocks away. You will be near Bleecker Street, walking distance (depending on your shoes) to Le Poisson Rouge where the Extravaganza is. Have fun!
The calendar below is constantly being updated.