Since 2003...
The New York School of Burlesque has set the standard for entertaining and instructive classes to thousands of students and partygoers from around the world.

Based in the Slipper Room, a cabaret and bar which has been dedicated to presenting burlesque for over a decade, the school is a collective of some of the most celebrated performers in burlesque. With its foundation in the New York Burlesque scene (widely recognized as the most prolific in the world), the school draws on a diverse pool of talent. Meet the instructors here.

Classes include movement, history, costuming, makeup, choreography, fitness, theatrical skill building, circus training, and confidence building.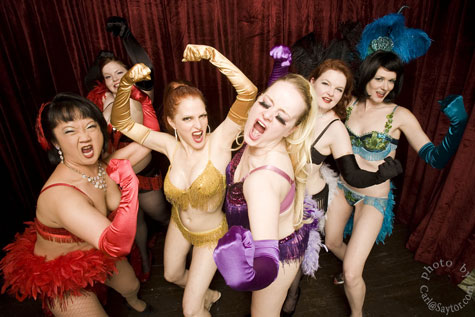 New York School of Bulresque Students with Headmistress Jo Weldon. Photo by Carl Saytor
Press Information
For press inquiries, filming requests, and interviews, contact
press@schoolofburlesque.com
.
Clippings
•
School of Burlesque on CBS Sunday Morning
•
Student Showcase on MTV
•
Jo interviewed for Coilhouse and the Syndicate of Human Image Trafficking
•
Jo's Instructional Burlesque DVDs, including video clips
•
Jo performing a tribute to her friend Sherry Britton, a burlesque performer of the 40s and 50s, who designed the hair, costume, choreography, and chose the music for the number.
•
Jo performing her Godzilla number at Coney Island
•
Two-time Village Voice "Best of New York" Award-Winner