Since 2003...
We provide a supportive environment for all, both gentle for beginners and challenging for professionals.
The New York School of Burlesque is and intends to remain a female-founded, -owned, and -operated endeavor, particularly in the face of an industry that has a history of resistance to women's performances being defined by the tastes of male venue owners. We support all genders.
The New York School of Burlesque has worked with Burlycon, Coney Island USA, Tease-O-Rama, and The Burlesque Hall of Fame. These associations inform our aesthetic, our educational approach, and our values. It is not just a school in the sense of a teaching organization, but a school in the sense of a school of thought, a way of thinking about the potential of burlesque.

The essential mission of NYSB is to provide both unique and fundamental classes taught by experienced performers. We believe in glamour that is bursting with intelligence. We strive to promote diversity in performance styles and so present instructors with different interpretations of burlesque. We want to promote instructors who teach both locally and worldwide. We want to provide classes for a variety of student interests: for fun, for fitness, or for preparing to perform. We believe in celebrating bodies of all ages, shapes, levels of ability, colors, and genders, and seek to have the composition of our faculty and our student body express this. We believe in both seasoned and emerging performers. We believe in the originality that can come from both experience and inexperience. We believe that studying the history of burlesque is an essential component in creating burlesque with depth and character. We respect those performers who came before us, those with whom we now work, and those who will come after us. We respect and promote performers, producers, and audiences who see burlesque as we do as well as those with different goals and approaches. We believe in asking challenging questions of ourselves and others. We believe in being open to processes and history beyond our own easily accessible realm. We believe in self-expression and audience appreciation. We believe in the excellence that develops from study and repetition as well as the excitement that comes from experimentation without guarantee of success. We believe in entertainment for its own sake, as well as for its ability to change the world.
Our goal is to provide a space in which students feel supported, though individual class assignments may be challenging, and the business end of burlesque can be demanding. Our goal is to make these spaces inclusive, diverse, and free of harassment. Because of the sexy nature of burlesque, it is important to us to help maintain our students' boundaries and comfort when they need our help or authority to do so. Please let us know if you ever feel uncomfortable due to the speech or actions of any of our instructors, students, or venues. Further, we will do our best to ensure that you do not experience discrimination due to your body type, age, gender, race, level of ability, or other factors that may concern you.
From the Village Voice "Best of NYC," 2007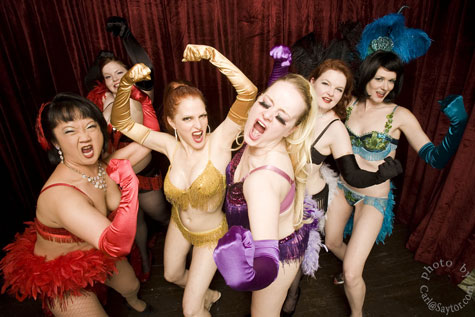 New York School of Burlesque Students with Headmistress Jo Weldon. Photo by Carl Saytor
Press Information
For press inquiries, filming requests, and interviews, contact Jo Weldon at headmistress@schoolofburlesque.com.