Merchandise Items No Burlesque Student or Fan Should Be Without!
Most are available at best price through merchants linked here.
Check out our newest merch from Burlesque-friend Lola Star! You can also click here to request NYSB t-shirts and tote bags!
The Burlesque Handbook
Written by Headmistress of NYSB Jo Weldon, this is the first, and continues to be the only, book on how to do burlesque!
Buy or Download Immediately at Amazon.com
Purchase a signed copy in NYC at our sponsor Enz's
This is the essential backstage guide to understanding and performing both classic and neo-burlesque. Written by Jo "Boobs" Weldon, award-winning founder of the New York School of Burlesque, this guidebook provides step-by-step instructions on basic moves, provides worksheets for costuming and music selection, and gives backstage insight from one of the most established and respected stars of the burlesque scene. Also here are insider tips from dozens of performers whose combined careers span six decades and an illustrated section on how to make and twirl tasseled pasties!
The book features easy-to-follow suggestions and exercises for developing stage-worthy confidence, presence, and sexiness. You'll learn about the fabulous makeup, costumes, pasties, moves, grooves, and attitudes of burlesque. The Burlesque Handbook is the must-have guide for everyone interested in this vibrant and wildly popular performance art, providing inspiration and practical information that readers can take straight from the page to the stage! See Headmistress Jo in action on ChristinaAguilera.com!
Rave Reviews for the Burlesque Handbook:
Recommended by Dita Von Teese on Twitter:
"Insightful how-to book on #burlesque~ http://dita.tk/jo About the neo-burlesque scene, tips & even clip art to make your own pasties! Nice!"
"I love Jo because not only is she absolutely gorgeous, she is incredibly smart. She is a burlesque performer, teacher, historian, and photographer. She shows us our present while preserving our past." -Margaret Cho
"Jo has been a fantastic entertainer at Exotic World and a great inspiration to everyone at the Burlesque Hall of Fame. It's an honor to have her working with us and a thrill to have her on our stage!" -Dixie Evans, Founder of the Burlesque Hall of Fame
DVDs
Honey & Spice:
Sensual & Fierce Burlesque with Jo Weldon
See clips and Purchase
NYSB instructors have partnered with World Dance New York to produce the highest quality How-To DVDs possible, with expert content by internationally-acclaimed performing instructors, award-winning music, and world-class prodution values.
T-Shirts, Mugs, and More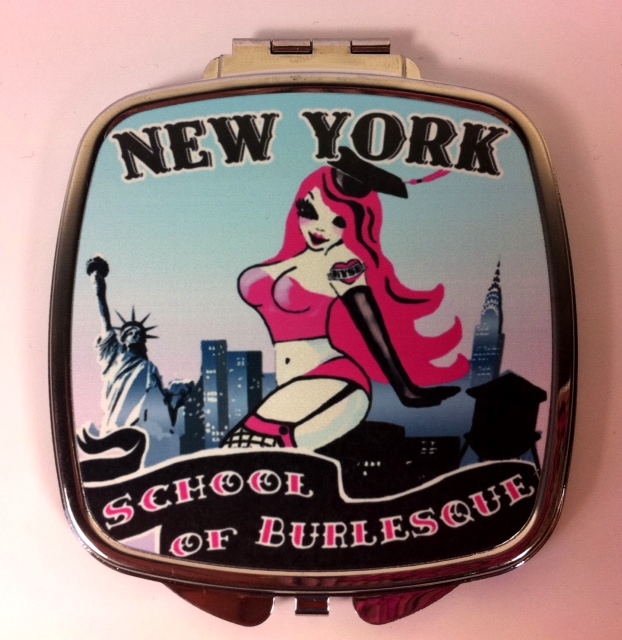 From Coney Island Legend Lola Starr!
See the collection and purchase direct!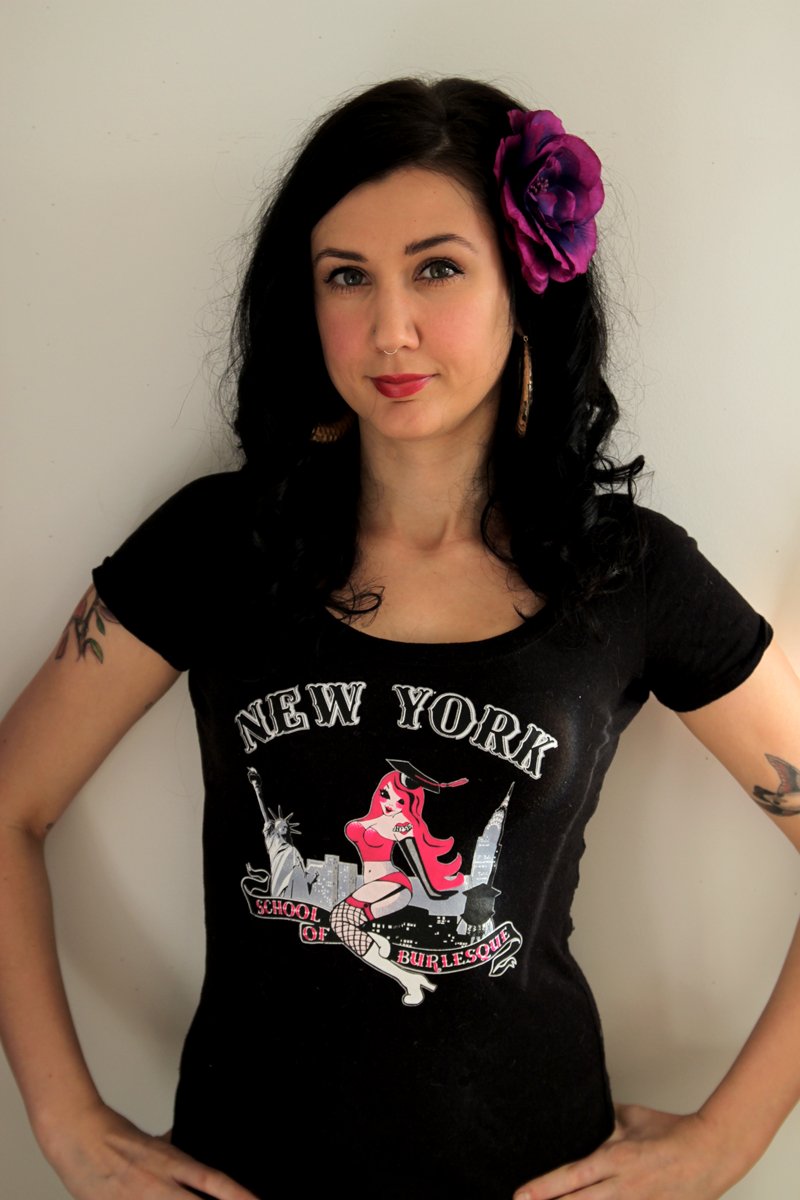 New York School of Burlesque T-Shirt Designed by Lola Star, Modeled by Coco Te Amo

Click here to request NYSB t-shirts and tote bags.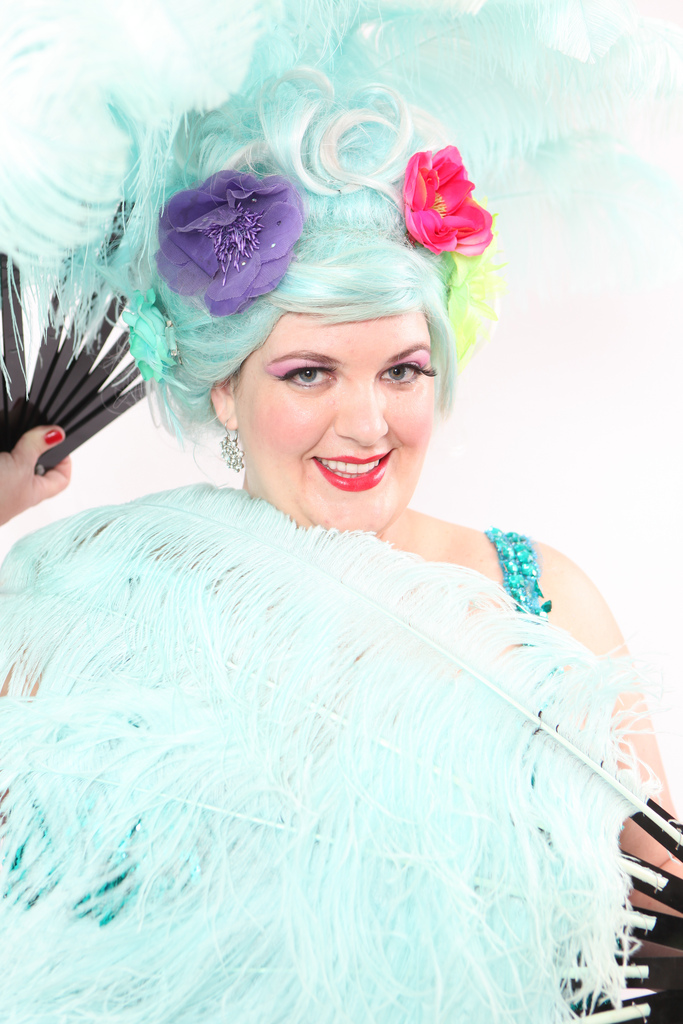 You can buy beautiful ostrich fans and feather boas from our good friends at Fancy Feather.

Use the discount code NYSB10 to get 10% off your purchase. Code is good through December 2013.



You can buy unique rhinestone pasties from Cheeky Cheetah
Gift Certificates
You can purchase gift certificates in a dollar demonimation or for a specific class. All classes are subject to availability and refund and transfer policies will apply as they do to all registrations.

Printouts of gift certificates will be emailed to you. Gift certificates are numbered to ensure value. Instructions for the person who recieves the gift certificate are on the certificate.

Please include the name of the giftor and the giftee and any special message you would like to see on the certificate in the message section of your paypal checkout.

You can buy a copy of The Burlesque Handbook or one of our DVDs or other merchandise to include with the gift certificate. Some may require separate ordering. See our Merchandise Page.

$25 value
Good for $25 toward any class(es) or two of our one-hour weekly classes.


$50 value
Good for $50 toward any class(es) or four of our one-hour weekly classes.


$100 value
Good for $100 toward any class(es) or eight of our one-hour weekly classes.


Party gift. $300
This is a party for up to 12 people at our studio or your location (in NYC reachable by public transportation--ask about other locations). Content may be selected by recipient and includes choices of chair dance, fan dance, or tassel-twirling, plus more options.



Props in the party will be lent to party members. Boas, gloves, pasties, etc. for party participants to keep may be purchased separately but request must be made no less than ten days before the event.

Our policies are all based on our desire to nurture the burlesque community as well as on the assumption that if we take advantage of you, you have the entire internet to let the world know. We are a customer-oriented business. However, we are also a small business, so please read our payment policies before purchasing.