LIVE IN-PERSON BURLESQUE CLASSES
WITH HEADMISTRESS JO WELDON AND FRIENDS!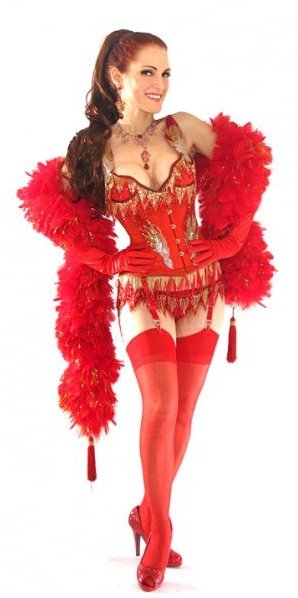 Time Zone Converter
SEE INDIVIDUAL LISTINGS FOR LOCATIONS AND PRICES.

Burlesque Crafting Classes!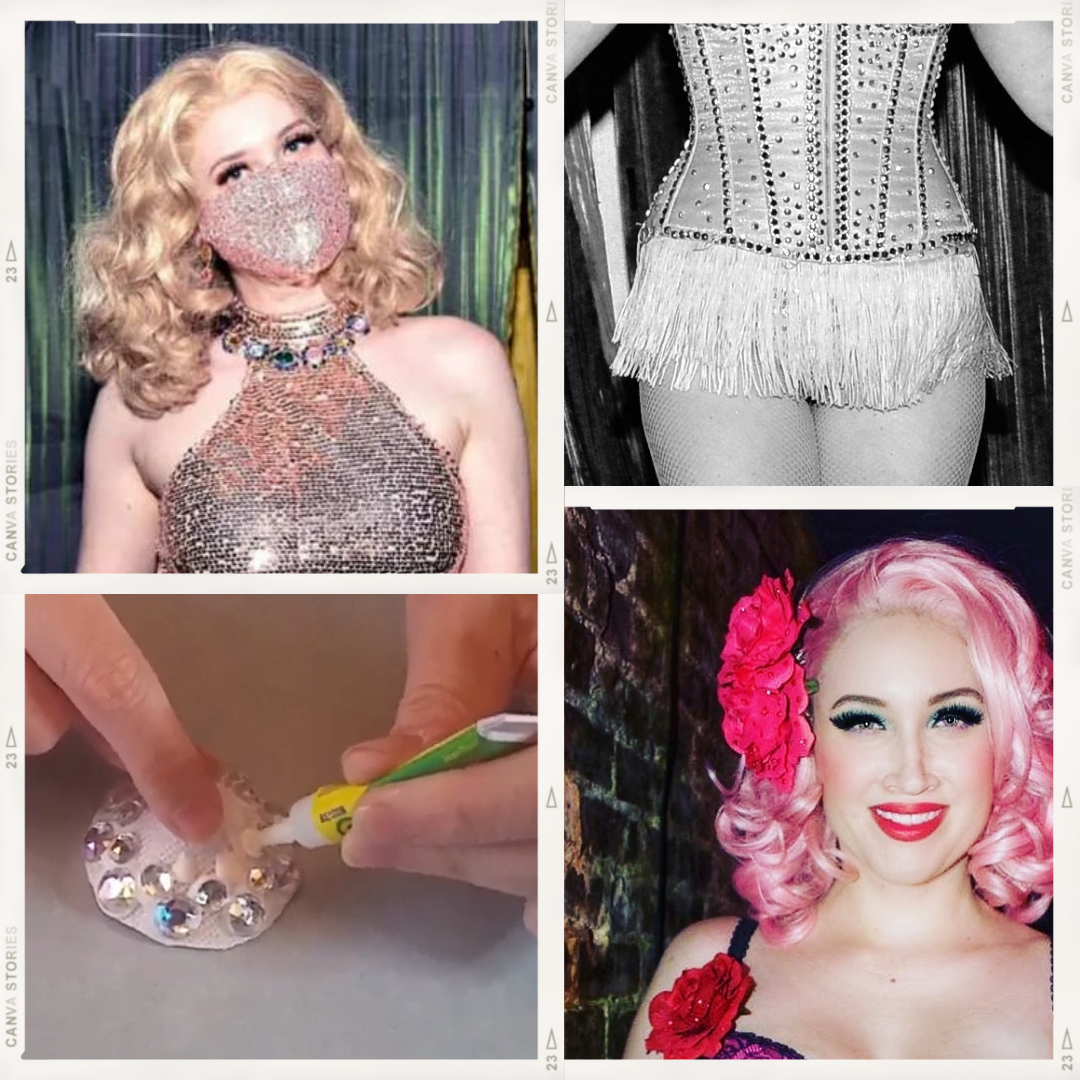 In-Person in NYC.
Thursdays in September at 6-7.15 pm.
Only $40 each, supplies included.
Location: Club Cumming at 505 E 6th St, NYC 10009
Instructor: Tallulah Talons, Producer of Pandemic Burlesque.
All are welcome--no prior experience needed
Scheduled Topics: 9/2 - rip-away fringed shimmy belt making
9/9 - custom pastie making
9/16 - pinup hair flower making
9/23 - fancy facemasks for performances
9/30 - panel skirt making
Space is VERY limited and advance reservations are required. You must use PayPal button to pay to register to reserve a spot.
What to bring: Bring proof of vaccination and ID showing that you are 21+, and a facemask. Your fee includes the basic materials needed to complete each project such as fabric, thread, needles, glue, fasteners, fringe, tassels, sequins, and resin rhinestones. If you would like to use specific materials or need to match the colors of a specific costume, you may also bring additional things from home like custom trims or rhinestones.
About the Location: Club Cumming at 505 E 6th St, NYC 10009. The cross street is Avenue A. The venue is easy to miss. It has a plain black facade and only a small paper sign in one of the side windows.
Questions about these costuming classes? Feel free to email Tallulah Talons at burlesquegiantess@gmail.com
Fantastic Fans!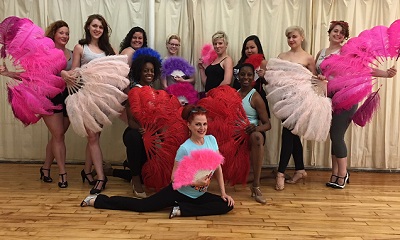 Live in-studio in-person in NYC.
Playwrights Horizons, 440 Lafayette St, 4th Floor
Sunday, September 12, 1-2.30 pm
Have you ever wanted to hold a pair of those big feather fans? Now's your chance!
Learn to shop for fans, how to hold them, how to pose with them, and how to move them! Headmistress Jo Weldon will put them right into your hands, showing you the professional tips and tricks that have put her on stages around the world.
This class will be kept small so students get to spend individual time with Jo's personal fans, which have appeared on many of the most famous burlesque stages around, as well as on the front page of the New York Times!
Wear something cute so you can take what may be your favorite selfie ever.
Prepayment required.
Location:440 Lafayette St, Greenwich Village NYC, 4th Floor, Studio 4C
Masks and proof of vaccination required to attend.

September 12, 1 pm
GET YOUR ACT TOGETHER!
Live in-person in NYC.
Sundays in October 2-4 pm
October 3, 10, 17, 24
Must pay in advance to attend
150 West 150th St
Create your own burlesque routine, from music selection, costume design and construction, makeup techniques, all the way through movement and choreography! You'll dig deep, laugh hard, feel incredibly sexy, and discover a fresh perspective for appreciating your personal genius!
Burlesque allows performers total authority to set the tone, style, and theme of each individual presentation. Each number has the potential to be a one-woman (or man) show, with absolute freedom of self-expression. It is a perfect medium for performers, whether they are interested specifically in burlesque, or looking to add new tools to their repertoires.
No prerequisites are required. Don't wait to register! The Essential Burlesque Series (see calendar) can be a companion for this class, but you will be able to create your fully developed fabulous routine with dance and theme using the techniques you'll learn in this series.
Finishing with a showcase at gorgeous DROM on November 7 at 8 pm!
LIMITED REGISTRATION $195
Taking Off!
Striptease Choreo and Improv
Live in-person in-studio.
Playing with new topics every week while developing choreography skills.
Mondays, 6-7 pm.
Please arrive with vaccination card or pass and ID.
At Aerial Arts, 150 West 30th St. in Manhattan
August 23: Towel Tease!
Bring a bath towel and learn the secrets conceal and reveal, plus a few tips for doing your best bath show (great for recorded shows!
August 30: Zip It!
We'll be talking about zippers! Bring at least one item that zips -- hoodies, dresses, boots, jeans, etc. -- and we will develop choreography for you during the class! Important note: bring items that remove easily once unzipped.
PLEASE STAY TUNED FOR A NEW IN-PERSON CLASS ABOUT STRIPTEASE AND SENSUALITY, CALLED "FEELING YOURSELF." Preregistration required.
Arrive 10 minutes early to check in.
For any class, dress as you would for a yoga or dance class and bring shoes you'd like to dance in and that you can move easily in.
No food in the studio, but water is allowed!
VACCINATION REQUIRED FOR IN-PERSON CLASSES AND EVENTS.
Please arrive with vaccination card or pass and ID.
Due to pandemic restrictions, class size and registration will be extremely limited and we expect these to sell out. All of our in-person instructors are vaccinated. We will ask to see proof of vaccination since the venue we are using may require it; if you have a condition that does not permit vaccination, let us know. The pandemic is unpredictable and we cannot guarantee anything, but we will refund in full if there are unforeseen pandemic-related circumstances.


PAST CLASSES LISTED BELOW.
SIGN UP FOR OUR EMAIL LIST TO BE NOTIFIED WHEN OFFERED AGAIN.
Get Your Act Together!
Act Development Series $195
July 11, 18, 25, August 1, 2-4 pm
Optional online chat August 8. While the classic moves workshops can be taken individually, this can be taken only as a series.
You'll develop an entire routine in four sessions, and have the opportunity to perform in a student showcase on August 15 at gorgeous DROM on Avenue A!
We'll cover:
Stage Names
Music Selection
Costuming Basics
Choreography for Burlesque
and so much more!
Includes access to your choice of 5 selections from our video library and a 64-page guide on how to get gigs. July is sold out, but you can register for August!
You will need to have an ebook or hardcopy of
The Burlesque Handbook
for homework readings, which is available or can be ordered wherever books are sold, and an also be borrowed from most New York libraries.
Jo's online classes will continue as well, including a one-of-a-kind series based on the elements of air, water, earth, and fire! More to be announced soon.
Goal-Setting Brunchtime -- Free! Live on Zoom
Saturday Jun 26 1-2 pm US Eastern Time
Registration limited to 15 attendees.
To attend, email schoolofburlesque@gmail.com with the words ¡ÈGoal-Setting Workshop¡É in the subject line of your email.
About this meetup with Headmistress Jo Weldon:
As we come out of the pandemic, we have a chance to evolve burlesque into what we want it to be, and figure out where we want to be in it. What are your passions? What are your goals? The better you understand what opportunities exist, what you want, and what motivates you to want it, the better your chances of achieving any goal -- and being happy when you get what you want.
Includes a worksheet you can re-use for any project, burlesque or otherwise.
Bring a cocktail (or mocktail), wear your fanciest caftan, and join Jo Weldon for a discussion about goal-setting in burlesque. All levels are welcome.
AUGUST 2021:

Essential Burlesque August 2021
Sundays August 8, 15, 22, 29 1-2:40 pm
Location: 440 Lafayette St, Greenwich Village NYC 10003
Must pay in advance using the button below to attend
Learn burlesque techniques of movement with props including striptease psychology, chair dance, fan dance basics, glove-peeling, and tassel-twirling!
Register now or
View more details
Get Your Act Together!
Sundays August 8, 15, 22, 29 3:00-5:00 pm
Create your own solo burlesque routine! Includes how to choose music, assemble a costume, create choreography, and more! With a student showcase at DROM NYC on September 12.
About Your Instructor
Jo Weldon is the founder and Headmistress of the New York School of Burlesque, and the author of The Burlesque Handbook. She has been a volunteer on the production team at the Burlesque Hall of Fame since 2004, and is a founding member and board Vice-President at BurlyCon. A pioneer in the neo-burlesque movement, her contribution to the current art form was recognized when she arrived at number 3 in 21st Century Burlesque's international poll to determine the top ten most influential burlesque figures 2010-2020. To learn from Jo is to learn from an original. Her approach emphasizes theory, context, and history to get you started with a firm grasp of the values and culture of the world burlesque community. All of her movement and performance techniques emphasize audience connection, to help you develop their abilities to mesmerize whether live on stage or through a computer screen. As a beginner, you couldn't be in better or more supportive hands; as an experienced performer, you won't find a more insightful and discerning peer. Join her classes and find out why she's recognized throughout the world as one of the premier instructors of neo-burlesque.
The calendar below is in the process of being updated.