Shake and Shimmy with
Bebe Bardot!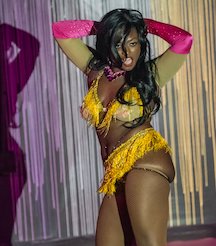 Saturday, March 27, 6-7 pm EST
Time Zone Converter
Online, live on Zoom.
Shake It Up: Shake Dancing in History & Practice
Bebe is constantly adding to this class, so expect a bit of new information and some new moves every time!
This class is open to all levels, from beginner to advanced! We will explore the history and choreography of retro shake dancing, a style of movement popularized during the 1930s-1970s. While definitions vary, shake dancing has always been marked by wild displays of sexual freedom, abandon, and unbridled sensuality. Participants will learn the socio-historical background of shake dancing in theory and practice, and will also learn how to spice up bump-and-grind acts by incorporating aspects of shake dancing into their performance style.
$15. Register by clicking "Add to Cart."
Bebe Bardot is the award-winning Doll of D.C.! Also known as the "Bite-sized Bibliophile," Bebe is a librarian and burlesque historian with a research focus on shake dancers in the 1930s-1970s. She won the top prize in the 2018 D.C. Burlypicks, the Golden Smile Award at the 2019 Golden Legends Champion Challenge, and was nominated for the New York Burlesque Festival's 2018 Hottest Freshman Award. Bebe has been featured in several pinup magazines including Retro Lovely, Delicious Dolls, Pinup Life, Black Pinups and more. Bebe is the shake dancer of your wildest dreams!
The calendar below is in the process of being updated.